Writer awarded the Booker Prize in 1997 for The God of Small Things. Born in Kerala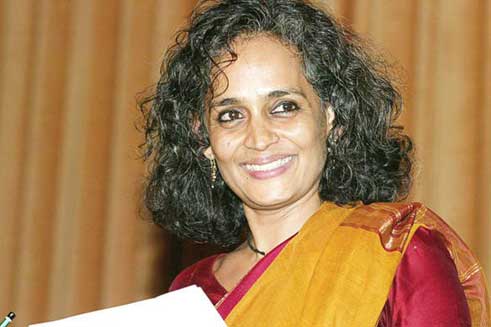 Arundhati Roy (Suzanna Arundhati Roy, born November 24, 1961) is an Indian novelist and activist. Her First novel "God of Small Things" has become an international best-seller, and in October 1997 won the coveted Booker Prize.
Roy was born in Shillong, Meghalaya to a Keralite Syrian Christian mother and a Bengali Hindu father, a tea planter by profession. She spent her childhood in Aymanam, in Kerala, schooling in Corpus Christi. She left Kerala for Delhi at age 16, and embarked on a bohemian lifestyle, staying in a small hut with a tin roof within the walls of Delhi's Feroz Shah Kotla and making a living selling empty bottles. She then proceeded to study architecture at the Delhi School of Architecture, where she met her first husband, the architect Gerard Da Cunha.
Arundhati met her second husband, filmmaker Pradeep Kishen, in 1984, and moved into films under his influence. She acted in the role of a village girl in the award-winning movie Massey Sahib and wrote the screenplays for In Which Annie Gives it Those Ones and Electric Moon. She also wrote the screenplay for The 'Banyan Tree', a television serial.
Roy began writing The God of Small Things in 1992 and finished it in 1996. She received half-a-million pounds in advances, and rights to the book were sold in twenty-one countries. The book is semi-autobiographical and a major part captures her childhood experiences in Aymanam. Contrary to some assumptions, Roy is not a twin. This misinformation arose from the fact that the character of Rahel is based on herself. We see this in the physical description of the character in her adulthood and also by some of this character's interactions with her mother, Ammu.
The nutshell of the story
The God of Small Things is about two children, the two-egg twins Estha and Rahel, and the shocking consequences of a pivotal event in their young lives, the accidental death-by-drowning of a visiting English cousin. In magical and poetic language, the novel paints a vivid picture of life in a small rural Indian town, the thoughts and feelings of the two small children, and the complexity and hypocrisy of the adults in their world. It is also a poignant lesson in the destructive power of the caste system, and moral and political bigotry in general.
In response to India's testing of nuclear weapons in Pokhran, Rajasthan, Roy wrote The End of Imagination, a critique of the Indian government's nuclear policies. It was published in her collection The Cost of Living, in which she also crusaded against India's massive hydroelectric dam projects in the central and western states of Maharashtra, Madhya Pradesh and Gujarat. She has since devoted herself solely to non-fiction and politics, publishing two more collections of essays as well as working for social causes.
In 2002, Roy was convicted of contempt of court by the Supreme Court in New Delhi for accusing the court of attempting to silence protests against the Narmada Dam Project, but she received only a symbolic sentence of one day in prison.
Roy was awarded the Sydney Peace Prize in May 2004, for her work in social campaigns and advocacy of non-violence.
In June 2005 she took part in the World Tribunal on Iraq.