Thousands bid a tearful adieu to Bishop Sebastian Valloppilly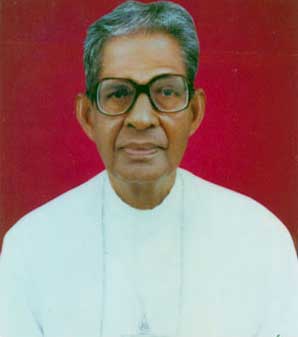 Thalassery: Body of the first bishop of Thalassery Archdiocese Sebastian Valloppilly who dedicated his life for the uplift of the migrated Christian families of Malabar region in Kerala, was cremated at St Joseph Cathedral here as people from various walks of life bid a tearful adieu to the departed soul.
Ninety-six-year-old Valloppilly, who passed away at a private hospital due to old age-related ailments on Tuesday 4th April 2006, was cremated at the church this afternoon with thousands converging here to pay their last respects to the departed soul.
The cremation ceremony that began at 1000 hours was led among others by Thamarassery Bishop Paul Chittilappilly Varkey Vithayathil and the present bishop of the Archdiocese George Valiamattam. A condolence message of Pope Benedict XVI was read out at the function.
Deeply influenced by Gandhian values, Valloppilly always stressed the importance of leading a simple life through his works and deeds and was in the forefront in the struggle supporting anti-liquor movement in the region.
During his long stint as bishop, Valloppilly was the bishop of the Thalassery Archdiocese ever since it was set up in 1953, for 35 long years. He had been spending a retired life since 1989 here leading developmental and spiritual works in the north Malabar region.