An effective administrator, a man of integrity and India's Bravest Man...
Comments by the media
Take one portion of courage, one point of integrity, one portion of dynamism and add a pinch of foolhardiness and you have Alphons.
-The Hindustan Times
A saga of courage. Demonstrates that one man can make the difference.
-Srivastava Krishna in Biblio
Determined to make a difference. He is one of the few who still dares to dream of a clean system.
-The Hindu
Alphons did show rare grit and determination. He demonstrated that if you really put your mind to a task, you can overcome even the toughest opposition or obstacles.
-India Today
Alphons brings imagination, courage and incredible drive. Nothing is allowed to come his way. What is impressive is Alphons passion and ability to do something about it.
-KPS Menon in Indian Review of books.
Profile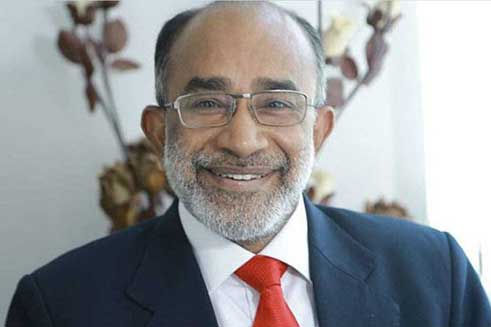 Born in the year 1954 as the son of KV Joseph and Brijith Joseph, Alphonse was an average student in his school days. Soon after the matriculation, Alphons moved to New Delhi for higher studies.
After completing his post graduation from the Jawaharlal Nehru University, he succeeded in getting into the Indian Administrative Service.
An IAS officer of the 1979 cadre, he cleansed the polluted world of bureaucracy with his sagacious administrative skills.
Listed as one of top 100 young global leaders by Time magazine in 1994, he disproved the widespread belief that corruption is pervasive and so is difficult to do away with.
He says, corruption is not a government policy and therefore I am free to criticize it.
Present Scenario
Land Revenue Commissioner K. J. Alphons Kannanthanam resigned from the Indian Administrative Service to contest for a seat in the Assembly.
He has been sounded for the contest from the Kanjirappally constituency as a Left Democratic Front candidate.

"I am a people's man who worked for the benefit of the citizen. The citizen is most important for me. Everything in my official life revolved around the citizen. In future also, it will continue to revolve around the citizen,'' he said in reference to his decision to enter politics.
His Achievements:
Alphons has achieved a great success by bold positions he had taken on various issues.Mr. Kannanthanam Alphons was also behind several campaigns for public causes.
-He was in the Time magazine's list of 100 young global leaders for the new Millennium in 1994.
-Kottayam district achieved a quality health index better than that of the U.S. when he was Collector there.
-During his tenure, Kottayam becomes the first 100 percent literate town in the country.
-He led the demolition of 14,310 unauthorized buildings in New Delhi as the Commissioner of the Delhi Development Authority.
-He started a non-governmental organization, Janashakti, to crusade against corruption at all levels. Janashakthi has been running a project from 1994 in Nanglamachi, one of the biggest slums in Delhi.
-His autobiography, `Making a Difference,' is a best seller.