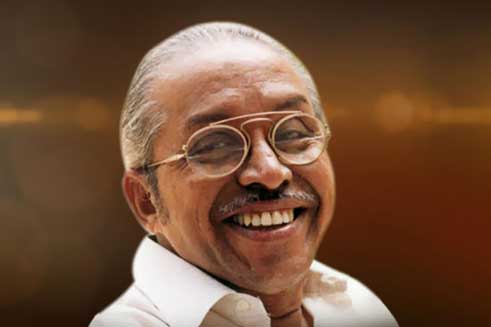 One of India's greatest living poets. Mystic, profound, prophetic, gentle, pure — these words describe both ONV Kurup and his work. He is also well known as a poet who fights for the rights of the oppressed and the working class.
GOOD POETRY and MUSIC exalt one to the highest levels of civilization. Poetry and music should complement each other. Nothing is more captivating than a perfect blend of the two
- O.N.V.Kurup.
Padmashri Award Winner in 1998.
BIRTH AND EDUCATION:
O N V Kurup, son of O N Krishna Kurup and K Lakshmikutty Amma was born on May 27, 1931, at Chavara, Kollam.
Schooling - Chavara,
Bachelor's Degree in Economics - from SN College, Kollam,
MA in Malayalam Literature from Trivandrum University College.
Post Held:
As Lecturer - Maharaja's College, Kochi, Universty College, Trivandrum, Arts and Science College, Kozhikode, Government Brennen College, Thalasseri and was Head of the Department of the Government Women's College, Trivandrum, visiting Professor of Calicut University and retired on May 21, 1986.
His Poetic life:
At the age of eight, O.N.V Kurup lost his father, who had planned to begin music lessons for him. This untimely demise had left him bereft and in unfamiliar circumstances. "I grew up like a prince when my father was around," he recalls. But life changed, unreservedly after his death. Poetry was a drop of light that came to him in the dark solitude of his childhood. And from then on poetry and songs started to live in him.
His poetic works:
His first published poem was 'Munnottu' (Forward) which appeared in a local weekly in 1946. It was only a sudden outburst of his high-spirited patriotic sentiments, but it marked the beginning of a long poetic career.
His poetry collections:
The first poetry collection was 'Porutunna Soundaryam' in 1949. His early poems (1946- 56) have been compiled in the book 'Dahikunna Panapatram' (The Thirsty Chalice).
His Poetry List
1. Dahikunna Panapatram
2. Marubhumi
3. Nilakkannukal
4. Mayilppili
5. Oru Tulli Velicham
6. Agni Salabhangal
7. Aksaram
8. Karutta pakshiyude pattu
9. Uppu
10. Bhumikku Oru Charamagitam
11. Sarngakappakshikal
12. Mrgaya
13. Tonniaksharangal
14. Aparahnam
15. Ujjayini
16. Veruthe
17. Swayamvaram
18. Bhairavante Thudi
19. Oyenviyude Ganangal (Collection of 1500 songs)
20. Valappottukal (childrens poems)
His Prose list
1. Kavitayile Samantara Rekhakal
2. Kavitayile Pratisandhikal
3. Ezhuthachan - Oru Padanam
4. Patheyam
5. Kalpanikam
6. Pushkin - Swatantrya Bodhatinte Durantagatha
Each of his poems creates its own music. He is an ardent lover of music though not wedded to its practice.
His expression:
To O.N.V a poem can be an ardent wish or prayer for peace for all or a motif of love that binds hearts together. It can be a deep sigh or a teardrop compelled by an inner grief when disturbed by some external force. He tries to focus for the rights of the oppressed and the working class.
Praise notes
"O.N.V. is not an ivory tower poet. He can often be found on the streets championing the rights of the aggrieved. He also voiced his protest against the commercialization of education," Mr. Vijayan -CPI(M) State Secretary
Poet Sugathakumari, says that his poems open up a world of 'hope' and 'belief'.
His Family:
O N V Kurup now resides at Vazhuthacaud, Thiruvananthapuram with his wife Sarojini, son Venugopal and daughter Mayadevi.