Renowned playback singer and Carnatic musician of yesteryear and the recipient of the best playback singer award by the Kerala Government in 1969.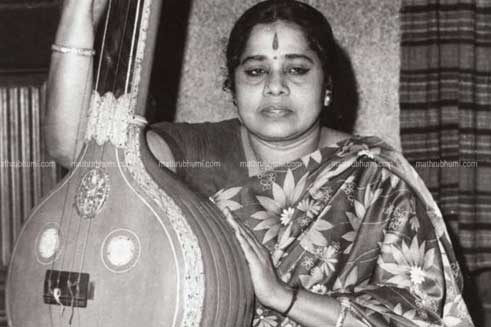 P.Leela was born on 19th May 1933 in Kerala. Born to parents deeply interested in music in Chittur in Palakkad district, Leela had a thorough training in classical music before starting her film career. Her first song was for the Tamil movie Kankanam in 1943, when she was just 13. It was an invocational song composed by H R Padmanabha Sastry. Following that, she sang for 2 Tamil films in Subbaraman's music direction.
In a career spanning over five decades, P Leela had sung over 1,000 songs in different languages under top music directors. She also left a lasting impression as a devotional singer with her recital of Narayaneeyam and Lord Guruvayurappan songs marking brisk sales of the records.
Vakacharthu, as recited by Leela, is played every morning in Guruvayur Temple, coinciding with the Nirmalya darshan in the wee hours.
As a playback singer, she has sung in 4 languages. She along with Ghantasala became a definition for duets. Ghantasala was working with Subbaraman as an assistant at that time. Their acquaintance started then. When Ghantasala turned music director, he gave her the chance to become a full-fledged playback singer for Mana Desam in 1949. She continued with her voice in Keelu Gurram, Gunasundari, Patalabhairavi, and many movies.
Evergreen numbers
Entha ghatu premayo, Kalavaramaye Madhilo (Patalabhairavi 1951), Lahiri Lahiri Lahirilo, Choopulu Kalasina Subhavela, Neevnea Nanu talachinadhi, Nee kosame ney (Maya Bazar 1957), Echati Nundi Veecheno (Appu Chesi Pappu koodu 1959), Ravoyi Chandamama (Missamma), Andhame Anandham, Veshamu Marenu (Gundamma Kadha) are just a few of many evergreen numbers rendered by P.Leela in Telugu.
She also rendered devotional including Sri Ramuni Charitamunu (Lavakusa), Karuninchu Meri Matha (Missamma), Deva Deenabandhava (Pandava Vanavasam), Mangala Gowri Devi (Mudhu Bidda), O Jagadadhara (Sati Anasuya), Yedu Kondalavada (Pelli Chesi Choodu).
In 1988, Leela composed music for Chinnari Papalu directed by Savitri. Her last film in Telugu is Srimadvirat Potuluri Veerabrahmendra Swami Charitra in 1984.
Several songs in Telugu and Kannada films followed the debut performance before she made it to her mother tongue, Malayalam, with the 1948 release Nirmala.
She had since then made hundreds of Malayalam scores, known for their emotional touch and classical discipline.
Leela was a recipient of several honors, including the first best playback singer award of the Kerala government in 1969 and in 1992 by the State Government of Tamil Nadu.
The veteran playback singer died on 1st Nov 2005 at the age of 76 in a private hospital in Chennai. She was being treated for pneumonia and asthma.