On June 15, 2006, the Government of India announced its backing for Tharoor's candidature as Kofi Annan's successor for the post of UN Secretary General.
Shashi Tharoor ( Born 1956, London) is the United Nations Under-Secretary-General for Communications and Public Information. Apart from being a reputed author and journalist, Tharoor is also a fellow of the USC Center on Public Diplomacy.
His roots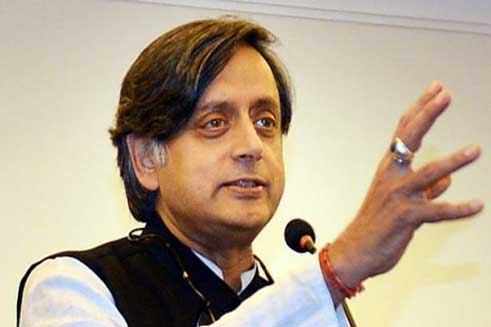 The people of Elavancherry, Chittilancherry villages and Shashi Tharoor's family in the Palakkad district are elated at his nomination as India's candidate for the post of Secretary General of the United Nations. His father, Chandran Tharoor, hails from the `Tharoor Tharavad' of Chittilencherry, and mother, Lily, from `Mundarath Tharavad' in Elavancherry, near Kollengode.
Dr. Tharoor had last visited his relatives in December 2004 when he delivered the Endowment lecture at Victoria College in Palakkad.
According to his uncle, Mukundan Unni Shashi was a prolific reader from childhood. "We used to go for picnics with family members to hill stations such as Nelliampathy. When others went for a trek or swimming in the waterfall, he used to climb a hill to read a book," Mr. Unni said.
Dr. Tharoor's grandmother Jayashankini Amma said he was very fond of her and telephoned her frequently despite his busy schedule at the U.N. His mother Ms. Lily lived with her till last year when she left for California to be with her daughters Shobha and Smitha.
Mr. Unni said Dr. Tharoor was fond of Malayalam classical songs and liked Kerala food.
In his job at the U.N., Dr. Tharoor regularly interacts with people and replies to their letters, said Mr. Unni adding that he studies the problem in detail and makes his own assessment. This will make him a good Secretary General if elected to the post, Mr. Unni said. He is the father of twin sons.
Source: The Hindu
His Education
Shashi Tharoor had his education from Bombay, Calcutta, Delhi (BA in History, St. Stephen's College), and the United States. He completed his Ph.D. at the age of 22 from The Fletcher School of Law and Diplomacy at Tufts University in the United States.
His UN careers
• Since 1978, Tharoor has been working for the United Nations, serving with the UN High Commissioner for Refugees, whose Singapore office he headed during the "boat people" crisis.
• Since October 1989, he has been a senior official at the United Nations headquarters in New York, where, until late 1996, he was responsible for peacekeeping operations in the former Yugoslavia.
• From January 1997 to July 1998, he was executive assistant to UN Secretary General Kofi Annan.
• In July 1998, he was appointed a director of communications and special projects in the office of the Secretary-General. The same year he was named by the World Economic Forum in Davos, Switzerland, as a "Global Leader of Tomorrow".
• Mr. Tharoor is an elected Fellow of the New York Institute of the Humanities and a member of the Advisory Board of the Indo-American Arts Council.
• In January 2001, he was appointed by the Secretary-General as interim head of the Department of Public Information.
• On 1 June 2002, he was confirmed as the Under-Secretary-General for Communications and Public Information. In this capacity, he is responsible for the communication strategy, enhancing the image and effectiveness of the UN.
• In 2003, the Secretary-General appointed him United Nations Coordinator for Multilingualism.
Literary career:
He has an amazing appetite for words. Often from early morning to midnight, he works at his computer, getting up only for meals. "I write for the same reason a cow gives milk! It's what I do. And as with a cow that isn't milked, a writer who doesn't write would be in serious danger of imploding." There is no such imminent danger for Shashi Tharoor though. He has written more books than many have read in a lifetime. He also has "more ideas" than many have cared to put down in words. Yet he prefers to call himself "a weekend writer" who manages to sneak in some time in the evenings for writing!
His works: Fiction
• Riot (2001)
• Show Business (1992)
• The Five Dollar Smile and Other Stories (1990)
• The Great Indian Novel (1989)
Non-fiction
• Bookless in Baghdad (2005)
• Nehru: The Invention of India (2003)
• Kerala: God's own country (2002)
• India: From Midnight to the Millennium (1997)
• Reasons of State (1982)
Awards and recognition :
In 1998, Tharoor was awarded the Excelsior Award for excellence in the literature by the Association of Indians in America (AIA) and the Network of Indian Professionals (NetIP).
He received the honorary degree of Doctor of Letters in International Affairs from the University of Puget Sound in May 2000.
In January 1998, he was named by the World Economic Forum in Davos, Switzerland, as a Global Leader of Tomorrow.