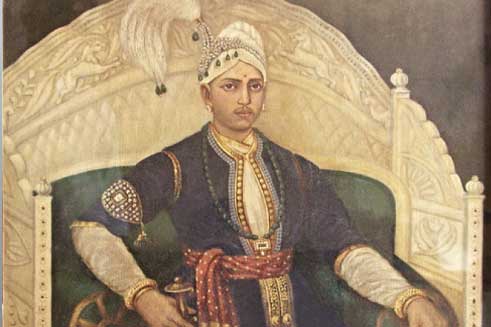 The Maharajah, a multi-faceted personality who made his mark in various capacities - as an able ruler, administrator, reformer, visionary, poet, musician, philosopher, and linguist.
Sri Swathi Thirunal Rama Varma (April 16, 1813 - December 25, 1846) was a South Indian king of the state of Travancore, in India. His reign lasted from 1829 to 1846. He was born a king and was in power even before birth. Therefore, he is called Garbha Sreeman.
Besides being an able ruler, he was a patron of music and a musician by himself. He encouraged both broad systems of Indian music, Hindustani and Carnatic music, though he was essentially a connoisseur of the Carnatic music tradition.
Maharaja Swathi Thirunal has written and composed songs in different languages and ragas. Some of his favorite compositions are Padmanabha Pahi, Deva Deva and Sarasijanabha. His compositions are sung during the Dusshera season, at Kuthiramalika in the Fort at Trivandrum near Padmanabha Swamy Temple. He was one of the figures noted as Kalineesan in Akilattirattu Ammanai the holy script of Ayyavazhi.
The king was fluent in Indian languages like Marathi, Telugu, Bengali, Tamil, and Oriya to name a few. He even has composed ragas in several ragas.
He can be compared to Alexander the Great in some ways. Both died in their early thirties but they are alive even today due to the tremendous influence they had on the generations to come, Alexander in the art of warfare and Swathi Thirunal in the art of composing music, poetry, and singing. It is said that he encouraged artists of various genres to come to his palace and even if he found the artist not entertaining in his court he would reward him richly.
He has been called 'King among poets and poet among kings.'
His College
Way back in 1834 when his Highness Sri Swathi Thirunal Rama Varma, the then Maharaja of Travancore started a school out of a desire to provide quality education of the Western type to the children of the State.
In 1866, the school was raised to the status of a College affiliated to the Madras University. It was named H.H The Maharaja's College. Mr. John Ross was the first principal.
By 1870, a spacious two-storied building was constructed forming the central block, which has lasted to this day.
In 1924, the Arts and Science Departments were bifurcated into separate Colleges for the respective disciplines. However, to bring back the bonhomie, the two colleges were subsequently amalgamated in 1942 and the new Institution christened University College, the name by which we know it today.
It has since grown from strength to strength with the addition of new courses from time to time. It is considered an honor and privilege to be a student or staff of the College.