A renowned jurist, administrator, orator, and writer... His verdicts still remain golden in Indian law history.
BIRTH AND EDUCATION: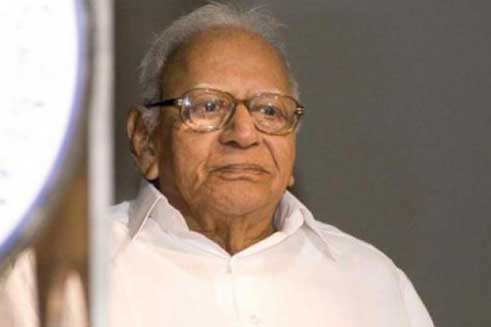 Born in the Palakkad district of Kerala, on 15th November 1915 as the son of the reputed advocate VV Ramaiyer.
He studied and graduated in Arts from Annamalai University in Tamil Nadu, studied at Madras Law College for a Bachelor of Law. In 1938, he enrolled as an advocate and was appointed to Ernakulam High Court.
HIS ROLES:
• In 1952- Member of Madras Legislative Assembly.
• In 1957- Elected to Kerala Assembly from Thalassery. He was appointed as a minister in the state government of Kerala following the victory of the Communist Party of India under E. M. S. Namboodiripad in the 1957 elections. He was assigned the departments of Home, Law, Jail, Electricity, Irrigation, and Social Welfare.
• In-1960- Elected to Kerala Assembly for the second time.
• In-1968- Appointed as a judge in Kerala High Court.
• In-1970- Member of Law Commission.
• In 1973-Judge in Supreme Court from July 17 to Nov 14, 1980
V. R. Krishna Iyer became a judge of the Supreme Court of India in 1973. During this time, the Supreme Court interpreted Article 21 of the Constitution of India in the sense that the national government was obliged to provide free legal services to accused people in custody. He retired from the Supreme Court in November 1980.
• In 1987 - Contested in the Presidential election against R Venkataraman.
HIS RECOGNITIONS- AWARDS
Sovietland Nehru Award (1968)
Sree Jehangir Gandhi Medal (1982)
Rev. MA Thomas National Human Rights Award (1998)
Rotary Manavasena Award
Padma Vibhooshan (1999)
AT PRESENT
- A fellow of the Indian Society of Criminology
- A patron of many Sangeeta Sabhas
- Chairman of R Sankaranarayanan Thampi Foundation Council
LANDMARKS AS A JUDGE
The prison laws got reformed under the initiative of Krishna Iyer. He supported for the rehabilitation of the prisoners and suggested free legal help for the accused in custody. The verdict of the Ratlam Municipality case highlights the legal responsibility of the local body institutions in health care and sanitation.
According to the service rules of Indian Foreign Service, the women employees had to produce prior approval certificate from the government before marriage. Krishna Iyer made it obvious that it is discrimination against women and against the freedom of equality. He was involved in the verdict of a critical case in the Indian political history. He stayed the High Court order with certain conditions, which prevented Indira Gandhi from contesting the elections for six years.
AS AN ORATOR:
He delivered the following lectures-
- Ambedkar Memorable lectures under the auspices of Jawaharlal Nehru University, Delhi and Madras University
-Allady Krishna Swamy Iyer Memorable lecture, Hyderabad
-Lecture in the Andhra University Waltair (Andra Pradesh State, India)
-Megachand Mahajan Memorial Lecture in the Punjab University and another in Delhi
-Bhimson Sanchar Memorial Lecture in Delhi.
Justice Iyer has delivered many prestigious lectures including the Tagore Law Lectures on Human Rights (Calcutta University). He has traveled to many countries like Sri. Lanka, Hong Kong, Kuala Lumpur, Bangkok, USA, UK, Canberra, Geneva, Stockholm, and Brussels. His addresses in Dhaka and Karachi at the SAARC Law Conference are memorable. He delivered an important lecture on Victimology in Adelaide in Australia and he is an activist in Victimology.
HIS FAMILY
VR Krishna Iyer lives at Kochi. He has two sons Ramesh and Paramesh. The untimely death of his wife Sarada Krishna Iyer was a setback in his life.
Krishna Iyer has written a book named 'Satgamaya', which is dedicated to his wife. It depicts the pain of separation after her death.