The twentieth Chief Minister of Kerala state and is popularly known as "Comrade VS".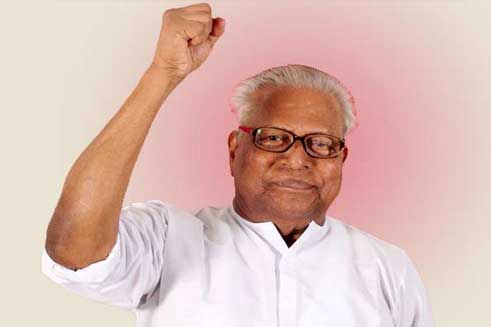 Born on 20 October 1923 to Shri. Sankaran and Smt. Accamma in Alappuzha district of Kerala state, VS had to give up his studies after finishing VII standard.
He entered into the world of politics through Trade Union activities and joined State Congress in 1938. Like many young men of his age, he became disillusioned with the policies and politics of the Congress and became a member of the Communist Party of India (CPI) in 1940. He was imprisoned for five years and six months during Freedom Struggle period and has gone underground for four and half years in his decade's old political career. He was active in the Punnapra-Vayalar uprising. He was one among the 32 comrades who left the CPI National Council in 1964 to form the CPI(M).
Positions
Achuthanandan had served many positions in a long political career. He was the Kerala State Secretary of the CPI(M) between 1980 and 1992 and he became the member of the Polit Bureau since 1985. He was also active in parliamentary politics as he became the member of Kerala Legislative Assembly in 1967, 1970, 1991, 2001 and 2006. He was the Leader of Opposition in the Kerala Legislative Assembly from 1992 to 1996 and from 2001 to 2006.
Popularity
VS had gained enough popular support during his stint as the opposition leader. He did take an active personal interest in making visits to even the remotest of places, where ever he believed that the ruling government was not doing things in a right fashion, or done in an outright dishonest way. However, a few of his statements did create an impression that comrade Achuthanandan is basically against any development in the state of Kerala and still believes in outdated theories.
Assembly Elections,2006
During the assembly elections held in Kerala in April-May 2006, VS Achuthanandan defeated Satheesan Pacheeni of the United Democratic Front by a whopping margin of 20,017 votes in Malampuzha constituency in Palghat district. With this win VS successfully countered the accusation that when the party wins VS loses, and if VS wins the party loses. The State Committee and Polit Bureau meeting unanimously decided to make VS Achuthanandan the Chief Minister of Kerala. The swearing-in ceremony took place on May 18th, 2006 at central stadium Trivandrum.
It should be noted that when the prospective candidate list for CPI(M) was published (for the elections of 2006), the name of VS Achuthanandan was conspicuously absent. This creates an uproar across the state, and processions and protests were held in support of comrade VS Achuthanandan. The Polit Bureau finally succumbed to the pressure, and have decided to field VS from Malampuzha. He had won from Malampuzha with a margin of 20000 votes and he had become the 20th chief minister of Kerala state.