CEMENT MURALS:
CHITRAMATHIL : The longest cement mural wall in the world is around the campus walls of Sree Sankaracharya University of Sanskrit, Kalady, Kerala [1200 X5 ft] depicts various themes from Indian Puranas and Mythology, selected Scenes from life history of Adi Sankara- 108 Karnas from Bhartmuni's Natyasashtra, Scenes from Kalidas Sakunthalam, Megha Sandesa, where each block tells of hedonistic mysteries, feudal system then exists and temples for a holy power that works without being interpreted because also interpretation in the flux.
A 118 ft. high cloth sculpture designed by the artist was constructed at Adi Sankara Janmabhumi Kshetra, Kalady on the occasion of the 1217th birth anniversary of Jagadguru Adi Sankara.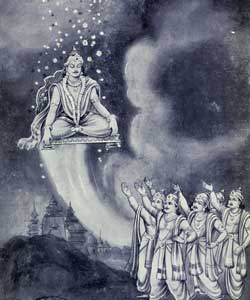 Yayathi (5000x4ft): is based on an eminent character from the Puranas.
Narayaneeyam (1200x4ft): a drawing based on the Sanskrit literary work 'Sreemad Narayaneeyam' by Mepattur Narayana Bhattathirippad.
Mural in Sringeri Temple: [400 sq ft]: The 400 sq ft of the mural in Sringeri temple, kalady, a little hamlet on the banks of river poorna in Eranakulum district of Kerala depicts the life of great philosopher Adi Sankaracharya.
Murals on the wall Rishimanglam: [500x5ft]: Various themes from Puranas are selected and depicted on the walls of Chuttambalam of the temple of Rishimangalam, Thiruvananthapuram.
Mahaprasthanam (107x4ft): The life history of Sri Buddha and his preaching are depicted through this work.
Saundaryalahari (116x4ft): The Saundaryalahari of Adi Sankara is depicted through the painting. Done in two parts- the 1st part illustrates the tantric slokas in 25 paintings and. the 2nd part explains the spiritual works in black & white.
Sangeetha Sadas (52x4FT): Mural Painting at Muscat Hotel (An Undertaking of KTDC, Govt.of Kerala). It depicts the cultural life at the court of his highness Maharaja Swati Tirunal.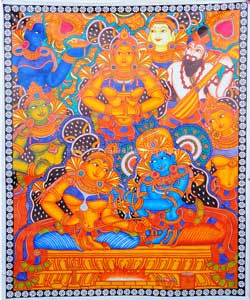 Rukminiswayamavaram (100x4ft.): It illustrates the romantic life of Sri. Krishna and Rukmini.
Kumarasambhavam (100x4ft): It illustrates the masterpiece literary work of Kalidasa.
Santhiyatnam (16x10ft): Paves light into the hardships and sufferings caused by war.
Kanalukal (100x4ft): Is a black & white painting based on the Indian Independence Movement.
Mural work (24 ft.): done at the branch of Bank of India, Guruvayoor.
Mural work (65 ft.): done at the branch of Bank of India, Chelakkara, Thrissur.
Mural work (24ft.): done at the Alangad branch of BOI, Aluva.
Mural work (80ft.): done at the Udyogmandal branch of BOI, Kochi.
Randamoozham: is a collection of paintings based on the Novel'Randammoozham' by Jnanapith award winner Sri. M.T. Vasudevan Nair.
A profile of the artist: Sri K.K Suresh
At first glance, Sri K.K Suresh's painting appears to be idyllic with their certain figures spread out on space less background using five traditional colors of Kerala mural paintings. Over the years K.K.Suresh, an Indian artist has participated and strived towards the development of Kerala traditional style.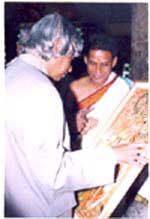 But looks are deceiving and decisive. His pictures depict great knowledge of Indian philosophy and various changes in the form of earth drawn from past, present, and future. It is said that in the beginning there was the word- but in K.K Suresh mural painting the very existing of living beings from a single point called [bindu] and the inner secret behind the surface shift from form to form. He has contributed to our tradition with his extraordinary creativity. Suresh's paintings are impressive and carry with it a flow of our tradition and culture. The themes of his paintings are mostly based on subjects from Indian Puranas and Ithisas[History]. While the subject matter is noteworthy of our tradition and culture his use of Kerala traditional mural style complements the artwork. Now, mythology is not the only thing the artist focuses on. His versatility and creativity can be remarkably found in numerous paintings he did over the years.
Born in 1962 at Velur Village, Thrissur District, Kerala he has done his Post Graduate Diploma in Drawing and Painting from Govt. Institute of Fine Arts, Thrissur, Kerala, he honed his skills in Mural Painting under the tutelage of Sri. Mammiyoor Krishnan Kutty Nair. Joined Guruvayoor Devaswom Mural Painting Institute as Instructor he worked for five years and then joined as a head of the department of the fine arts Sree Sankaracharya University of Sanskrit, Kalady, Kerala.
Bio-Data of K.K.Suresh
Name: K.K. SURESH
Date Of Birth: 20-4-1962
Designation: Lecturer in Mural Painting
Department: Department of Painting, Sree Sankaracharya / University of Sanskrit, Kalady, Ernakulam, Kerala-683574
Art Education: Post Diploma in Drawing and Painting / Govt.Fine Arts College, Thrissur / Traditional Scholar in Mural Painting
Experience in Teaching: Instructor in Mural Painting at Guruvayoor Devaswom Mural Painting Institute, Guruvayoor.
Awards:
• Highly Commendable Certificate in the 16th State Exhibition of Art, 1984
• Kerala Lalitha Kala Academy: Gold Medal in Inter-National Exhibition of Art held as part of AMRITVARSHINI-50 Celebrations held at kochi in the year 2003
• Honoured By: BHARATHAM a cultural organisation based at Thrissur, Kerala
Other Particulars
• Limca Book of Record: Received double entry in the Limca Book of Record 2006. One for longest Outdoors cement Mural Wall, For tallest cloth Sulpture
• Presented Mural Work: Sri A.P.J.Abdul Kalam on his visit to Kalady on 29th July 2005
• Art Consultant: Kalady Area Development Authority(KADA)
Exhibitions
• Conducted at Palm Beach Hotel, Abu Dhabi in APRIL 2003.
• Conducted at Ashoka Hotel, Delhi in JUNE 2004.
• Conducted at Kuala Lumpur & Alacca in EC 2004.
• Conducted at Holiday Inn, King Cross Road, London,in NOV.2005.
Masterpiece works