The famed Kerala Monsoon is the season of rainbows and raindrops that brings in an atmosphere of joy and vibrancy. The heady smell of the dry earth getting drenched, water drops splish-splashing over rivers and rooftops, waterfalls cascading majestically down mountains, and the flowers of the golden mango blooming in plenty – are all welcoming sights of the rains in the state.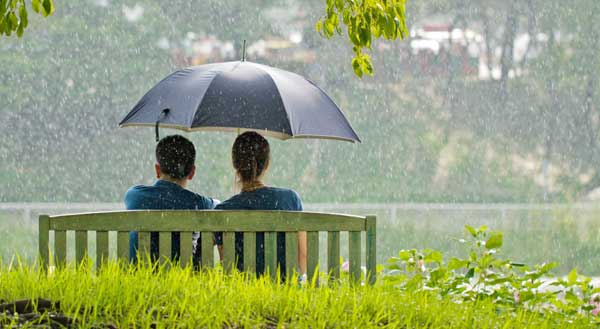 An assortment of delightful monsoon tourist packages await the travelers during this time. One of the tourist favorites is the houseboat package which offers one the unique experience of a dreamy ride in a traditional Kettuvallam snaking its way through the meandering backwaters, tasting the local food, taking in the sights, sounds and smells of the rustic settings and feeling the pulse of village life and its people. Cruising in the houseboat during the rains is a heavenly feeling, nestling in the cozy warmth of the interiors furnished with modern facilities and comforts.
Availing the Ayurveda health and wellness packages during monsoon time is another great way of spending the vacation in Kerala. This has a double benefit as this mode of treatment is said to offer the best healing effect in the rainy season, when the air is moist and dust free, and also the body and its pores are more receptive to the oil massages and other herbal healing methods.
The rainy season in Kerala is also marked by celebrations such as food fairs and monsoon festivals featuring delicious varieties of cuisine, photo exhibitions, and an array of entertainment activities such as classical and folk music concerts, dance presentations and other cultural items by eminent artists. These open food stalls with a choice of delectable dishes and drinks are thronged by crowds of visitors throughout. The art and culture performances are held in public auditoriums that are witness to huge audiences made up of travelers, visitors, and patrons of art.