The panoramic and peaceful village settings of Kerala are a treat to the senses of any traveler visiting the state. Village tour packages can be availed to explore the rural environs of Kerala and discover the rustic lifestyle of the people. Green stretches of paddy farms, villagers reaping the harvest in the fields, womenfolk in the hamlets weaving coir and cane baskets, ducks paddling by the streams and many more scenic sights, along with the smell of fresh air and the sounds of nature entertain the tourist in Kerala.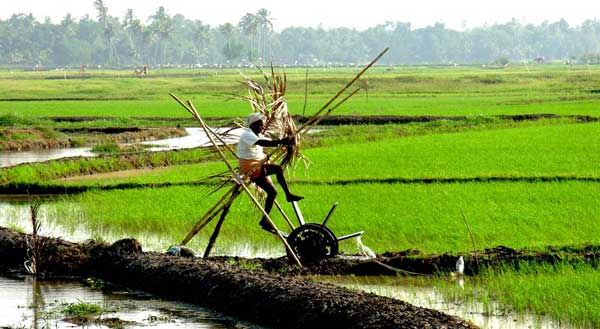 Also incorporated in these village tours are trips to tribal settlements and places of local interest. Kerala villages nestled in the green lap of nature surrounded by picturesque landscape made up of hillside valleys, river banks and mangrove woods contribute to making a memorable vacation for the tourists especially those traveling from the din and bustle of the city who find the tranquil atmosphere very relaxing.
Visitors also have the option of undertaking a leisurely backwater cruise through the lakes and lagoons, spending a day or two in a traditional houseboat that is fully furnished and comes with the services of a local cook well versed in preparing indigenous fish varieties. These houseboat cruises have become extremely popular among tourists from outside the state and country.
Spending the holidays in the villages during the rainy season has also become a great attraction, as the annual southwest monsoon bringing incessant rains forms a unique feature of the state. An assortment of village and backwater tours that offer a glimpse of the slow-paced rural life can be availed. Homestays is another option by which one gets a real feel of the villages through cooking, farming, staying with the local hosts and learning from them.