Shopping is an integral must-do part of the itinerary of any traveling tourist in Kerala. There are so many objects de art of exquisite craftsmanship and elegance that are worth a buy as memorabilia to take back home from the coconut country. The skilled hands of the artisans of the state come out with beautiful traditional handicraft pieces that find a buy among the tourist crowds. These are marketed by various government organizations and NGOs at specific emporiums and outlets that attract touring visitors.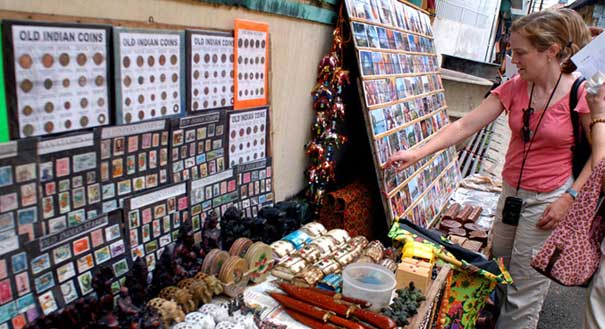 It's no surprise that the material for creating the art and craft items comes from wood, bamboo, cane, jute, coir, coconut shell, metal etc as Kerala abounds in forests and coconut groves. An assortment of curios, trinkets, wall hangings, ornaments, decorative and utility items reflecting the rich cultural heritage of the state are made out of these. Dance masks and figurines made of wood and paper-mâché, elephant accessories, Kerala sarees, metal mirrors, sandalwood perfume, and other artifacts are the regular favorites among shoppers.
Teak, rosewood, mahogany, and sandalwood are commonly used to make furniture, vases, pen holders and so on while buffalo horn which is unique to Kerala, is also widely preferred for utility and decorative uses. Favorite wood carvings include Kathakali and Mohiniyattam masks. Other preferred choices are metal/ivory inlaid woodcraft, horn carvings, coconut shell curios, jute mat paintings, coir wall hangings, cane curtains etc. Export quality tea, coffee, and spices are also hugely popular among visitors.
Kerala has carved a niche in the global spice market for its richly flavored and aromatic spices bought by tourists across the world. The spices include ginger, pepper, clove, cardamom, nutmeg, cinnamon and vanilla which are cherished items of international value that find customers worldwide. These are used in the manufacture of preservatives, medicines, and perfumes. Spices are also widely used in everyday cooking in Kerala. Kerala handicrafts and spices are coveted as gifts, mementos and souvenirs by the visitors to carry back home pleasant memories of the land of cultural beauty.