TAPOVAN GREEN COUNTY RESORT - THATEKKAD - KERALA
Hotel Class : Three Star
Tapovan Green County Resorts is a luxury resort, located at Thattekad, Kerala. The Resort with its; quaint tiled roof and exquisite woodwork architecture represents the traditional and authentic ambie...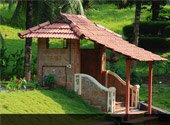 SOMA BIRDS LAGOON - THATEKKAD - KERALA
Hotel Class : Deluxe
Birds Lagoon is a village resort, luxuriously furnished, and immaculately decorated, the cottages are a thing of beauty and a joy forever-they are comfortable and alluring....
HORNBILL CAMP - THATEKKAD - KERALA
Hotel Class : Traditional
Hornbill camp at Thattekkad near Kochi, is so located, to perfectly blend into the forest, so you can enjoy your own private jungle and the spectacular view of the river Periyar. Along its banks, bird...