Chethalayam Waterfalls

Chethalayam Waterfalls is located 12kms from Sultan Bathery. One has to trek around 4kms from Chethalayam for having a glimpse of this lovely waterfall.
Kanthanpara Waterfalls
This waterfall is about 30 m in height and gives a panoramic view. It is located 12 km southeast of Kalpetta
Meenmutty Waterfalls
Meenmutty Waterfalls has a cascading waterfall in three tiers, from a height of 500 metres. It is located 12kms east of Meppadi
Sentinal Rock Water Fall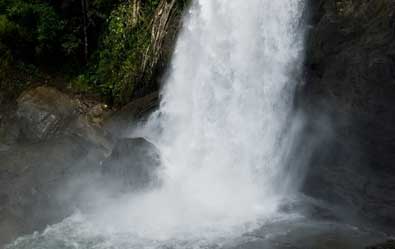 Sentinal Rock Water Fall is 22kms at Soochipara near Meppadi, south of Kalpetta. A three-step waterfall of more than 200m in height with a fantastic scenery provides for white water rafting, swimming, bathing, etc., The tree top huts at Soochipara will give a unique view of the valleys of Western Ghats. It is also an ideal place for rock climbing.
Soochipara Waterfalls
Soochipara Waterfalls has located 22 km from Hotel Green Gates. One can reach the waterfalls only after a 2-km walk into the dense equatorial forest of Wayanad.