Kerala Temple Music
Pancharimelam / Pandimelam: It is the traditional temple percussion music.
Panchavadyam:(Literally five Instruments)It is traditional temple music accompanying processions and pageants. The five instruments are Chenda, Kuzhal, Edakka, Elathalam, Timila
Musical Instruments Used in Temple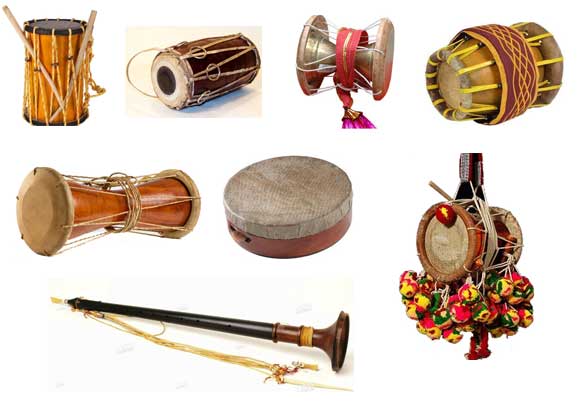 Percussions : Chenda, Maddalam, Udukku, Thakil, Veekuchenda, Timila, Ganjira, Edakka, Thudi Kuzhal ( horn), Elathalam(small Cymbal), Chengila (bronze gong), Chaplankatta (a wooden device struck together using the fingers), Nagaswaram (Long Horn ), Mizhavu ( a large copper pot), Nanthuni ( Instrument similar to the veena). The style of music has its origin in Kerala as differentiated from the music of other parts of Thamizagom and North India is termed as Sopana. This is of Kerala which is pristine and having its own individuality and uniqueness. As the name suggests, is related to Sopanam, or steps to the Sanctum Sanctorum of Kerala temples.
The significance of the name given for this style of music is multi-faceted. The singers who are known as 'Maaras,' used to sing Ashtapadi to the accompaniment of Edakka played by themselves. They stand in front of the Sopanam, or steps of the Srikovil or the sanctum sanctorum of the presiding deity. This is known as 'Kottippaadi Seva' (service by singing to the accompaniment of the percussion instrument) in the temples of Kerala. The style of singing is in slow tempo or "vilambitha laya", just like the ascending and descending of the Sopana or steps, developing gradually, step by step. The style of modulation of tones can be compared to the rise and fall of sea waves in a rhythmic, beautiful manner. This style came to be known as 'Sopanam' style of music. There exists another opinion regarding the significance of the name. The term 'Sopanam' has its roots in the Sanskrit word 'Sobhanam' meaning dance or Grantham. used for nritta was given the name as Shobhana Sangeetham, gradually changing to 'Sopanam Sangeetham'. This style was also termed as Bhava Sangeetha, Hridaya Sangeetha and Samaya Sangeetha. It is music full of bhava (mood) emanating from the heart and is time honoured. Sopana Sangeetham has influenced Desi Sangeetha and Karnatic music, to a great extent.
Salient Features
Sopana Sangeetham is evolved by codifying the essential and good elements of the Vedas, folk as well as temple music. During the 14th and 15th centuries, when Ashtapadi singing was implemented in the temples of Kerala, they were rendered in the Sopana style of singing. But originally, Tyaani, also known as Taaivaani, and Dhyani are sung along with Ashtapadis. Tyaaani is a form having 8 lines. These are also to be sung in specific ragas and talas. Sopana Sangeetham is also believed to have some resemblance with the khyal singing of Hindusthani music wherein Vilambitha style of singing is followed. Further Karnatic music in Kerala is also believed to have developed on the footings of Sopana Sangeetham. However, in Sopana Sangeetham, devotion or Bhakti is of prime importance. Hence lesser importance is given for swara sancharas, gamakas and detailed alapana or improvisation. Limited alapana will be accompanied by playing the Edakka. The Octave or tessitura of singing will be limited to one octave generally. Being sung in a swinging manner, priority will be given to Angola Gamaka with swinging type in its ascent and descent. However, the fundamentals of Karnatic music such as sruthi, swara, raga and tala can also be found in Sopana Sangeetha. The main difference is in the usage, style and prayoga (application). Ragas used mainly are Desakhi, Srrekandi, Nalatha, Malahari, Bali, Samantha, Malohosvi etc. Sopana Sangeetham can be considered as Kalpitha Sangeetha i.e., one set to specific norms whereas, in Karnatic music, Manodharma is given importance.
Sopana Sangeetham owes its origin and evolution to the ancient Thottam paattu, Kutthiyotta paattu, Pulluvan paattu and many other ritualistic musical forms. As the famous Malayalam poet Mahakavi Ulloor commented, "Kerala has a highly developed musical style as early as the people of this land".
Rendition Style
In Sopana Sangeetham moods or Bhavas are indispensable. Even the selection of ragas and talas depend on these. Ragas set for songs will be highly compatible with the thematic content and aesthetic aspects of the songs. The beginning will be on Graha Swara and rotating in and around laya in vilambita, one or two swaras and then gradually moving on to the next step as used in Angola Gamaka in a swinging movement, like the movement of the waves. Based on usage and prayoga, Sopana Sangeetham admits of two major divisions -- temple and stage. In the temple, the singer or the performer will be standing in front of the Sopanam to propitiate the Lord or the Deity for obtaining moksha or salvation. But in the stage, an actor or a singer is enacting the role of the Lord.
In temple style, people are the devotees whereas in the stage people are Rasikas or art lovers. In the former, God is real and the performer is the devotee whereas, in the latter, a person creates the impression of God's presence amongst the audience. Another fascinating feature found in Sopana Sangeetham is the presence of two or more swaras in addition to the accepted 12 swaras in Karnatic. These two swaras are referred to as Kairali Gandhara and Kairali Nishada which can be found in folk of Kerala.
Sthaaya style of singing is another peculiarity of Sopana Sangeetham and octave selection is also based on Bhava and Rasa. Modulation of swaras, specific vibrations given to certain swaras, tempo variations based on bhava is significant qualities of Sopana Sangeetham. Karnatic prevalent in Kerala has adopted many good qualities of Sopana Sangeetham. However, the style of singing will be crude, blunt by insistence on adhering to an ancient traditional style of singing. Nevertheless, with the emergence of Karnatic and its influence on Sopana, the originality of Sopana Sangeetham is fading gradually. Nowadays original style of Sopana Sangeetham can be heard only in certain temples of Kerala such as Ettumanoor, Ambalapuzha, Kaviyoor, Thiruvalla and a few others. Kathakali which was presented originally in Sopana Sangeetham style is slowly being shifted to Karnatic style.
Ritual Art
Temples or kshetras are considered as the treasure houses of Karnatic music. Musical forms, through highly religious and sacred, combined certain elements of folk music. Here one can find the fusion of acting, dancing and meditation. Temple music termed as Sopana Sangeetham was part of temple worship. The most prominent among Sopana Sangeetham, Ashtapadi, is sung by the Marar to the accompaniment of Edakka in front of the sanctum sanctorum. Sopana Sangeetham, as the style is referred to, is an offshoot of Naadodi sangeetham or used to be sung during temple rituals. In short, Sopana Sangeetham is ritualistic music in the most perfect form.
Tauryatrika - the union of three art forms - is a combination of the three major art forms namely sangeetham, nrittham and natakam. Dravidian music can be considered as the cluster of Tauryatrika which formed the foundation for Sopana Sangeetham. Many of the folk songs used in temples, especially of the northern region of Travancore, were associated with ritualistic customs and rites of rural folk. Folk music is exceptionally rich in vividness and variety regarding themes, lyrics, diction and style.