Theyyam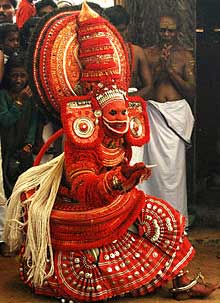 A ritual dance performed in temples by appointed people in fulfilment of vows of devotees. Theyyam is the corrupted form of the word Daivam meaning the God. It is purported to be the dance by the Goddess Herself. The dancers are men in feminine attire wearing colourful costumes made usually of palm leaves, cloth and brass jewellery, ferocious masks and big headgear, often extending up to forty feet in height.
The pace of the dance is set to the beating of Chenda (drum). The artist invested by the goddess in his person falls in a trance, dances deliriously to the mounting tempo and conveys, as an oracle, the goddess's acceptance of the vow and blessings or otherwise.
This popular form of worship is performed predominantly in the Kasargod, Kannur districts, Mananthavady Taluk of Wayanad and Vatakara and Koyilandy Taluks of Kozhikode of Kerala and also in South Canara and Kodagu of Karnataka. Theyyam owns a tradition longer than thousand years and people see Theyyam as a messenger of god, and thus seek blessings from them. The Theyyam period begins from the 10th of Malayalam month Thulam (October/November) and ends by the end of June.
There are certain communities which perform Theyyam like Malayan, Kopalar, Vannan, Munnoottan, Mavilan, Velan, Pulayar, Anjunnoottan and other communities. There are mainly two parts of Theyyam performed by the artists. In the first part of the performance, known as Vellattam, Thottam or Thottampattu, the performer who comes with simple and plain costumes narrates the origin and characteristics of different Theyyams along with his assists. The instruments used for its performance are Chenda, Veekan Chenda, Ilathalam and Kuzhal. Not all the Theyyams have Vellattam, and instead have a performance called Podiyila. When the Thottam (ritual song) is over, the performer returns to the stage with proper make-up and costumes. Only natural colours are used for the make-up and they include Chayilyam, Karimazhi, Aripodi and Maniyola. The costumes and make-up of the Theyyams differ with the different types of Theyyams.