St Francis Church :
Built-in 1503 by Portuguese Franciscan friars, this is India's oldest European church, Vasco da Gama's mortal remains were buried here in 1524 before they were removed to Lisbon.
Santa Cruz Basilica :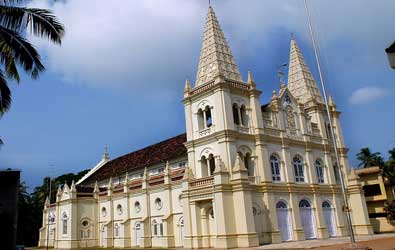 Dating back to 1558, this church has beautiful murals on the ceiling.
Mattancherry(Dutch) Palace:
Built in 1557, the palace has on display murals depicting scenes from the Indian epics and legends, Dutch maps, period furniture, and royal collections.
Jewish Synagogue :
The oldest Synagogue in the commonwealth, this was constructed in 1568. Hand-painted willow patterned floor tiles, Hebrew inscriptions on stone slabs, scroll from the Old Testament, ancient scripts on copper plates, etc, are the attractions here.
Bolgatty palace:
Built by the Dutch in 1744, this palace is today a hotel run by Kerala Tourism Development Corporation.
Hill Palace Museum, Thrippunithura:
The palace complex built in 1865 houses an ethnoarchaeological museum and Kerala's first ever heritage museum.
Chinese Fishing Nets/Vasco da Gama Square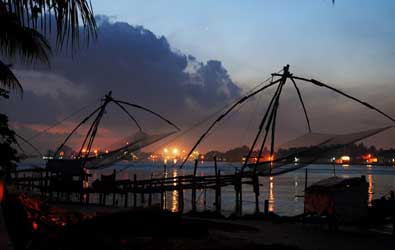 These huge cantilevered fishing nets are the legacy of one of the first visitors to the Malabar Coast. Erected here between 1350 and 1450 AD by traders from the court of Kublai Khan, these nets are built of teak wood and bamboo poles. The best place to watch the nets being lowered into the sea and catch being brought in is the Vasco da Gama Square, a narrow promenade that runs along the beach. The square is an ideal place to idle, with stalls serving fresh delicious seafood, tender coconut etc.