Padmanabha Swamy Temple:
Dedicated to Lord Vishnu, the temple is a blend of the Kerala and Dravidian style of architecture. It is known for its mural painting sandstone carvings.
Kuthiramalika(Puthenmalika)Palace Museum: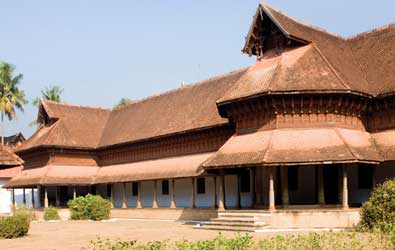 The place was designed and built by Maharaja Swathi Thirunal Balarama Varma, the poet-king, musician, social reformer and statesman. This rare specimen of workmanship in the traditional Travancore style has exquisite wood carvings and displays priceless paintings and other articles.
The Napier Museum:
(Open 1000-1700hrs. Closed on Mondays & Wednesdays forenoons) The Indo -Saracenic structure dating back to the 19th century, boasts a "natural" air conditioning system, houses a rare collection of archaeological and historic artifacts, bronze idols, ancient ornaments, a temple chariot, and ivory carvings. The use of plastic is banned on the museum premises. Ph: 316275
Sree Chithra Art Gallery:
( Open 1000-1700hrs. Closed on Mondays and Wednesdays forenoons) Located near the Napier Museum, this art gallery displays select paintings of Raja Ravi Varma, Svetlova and Nicholas Roerich and exquisite works from the Rajput, Mughal and Tanjore schools of art in India. The collection also includes paintings from China, Jaan, Tibet, and Bali.
Padmanabhapuram Palace(63 km-2 1/2hours Closed on Mondays):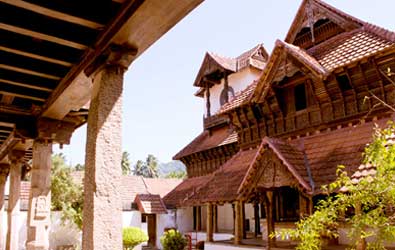 The seat of the erstwhile rulers of Travancore, this splendid palace is situated at Thuckalai, on the way to Kanyakumari. This is a well preserved wooden palace, a glorious testimony to the traditional Kerala school of architecture. The Extraordinary murals, exquisite floral carvings, and the black glossy granite floor have withstood the test of time.