Malappuram
The district lies in northern Kerala and is bounded on the north by Wayanad and Kozhikode districts. Four important rivers of Kerala, flow through Malappuram district. They are Chaliyar (Beypore river), Kadalundipuzha, Bharathapuzha, and Tirurpuzha. Chaliyar has a length of 169 km and originates from Illambalieri hills in Tamilnadu, important tributaries of this river are Chalipuzha, Punnapuzha, Pandiyar, Karimpuzha, Cherupuzha, and Vadapurampuzha. Chaliyar traverses through Nilambur, Mampad, Edavanna, Areekade, Vazhakkad and flows into the sea at Beypore in Kozhikode district.
Kadalundipuzha is formed by the confluence of two rivers, the Olipuzha and Veliyar. Olipuzha originates form Cherakomban hill and Veliyar from Erattakomban hill. They flow through the Silent Valley and traverse through Ernad and Valluvanad regions, before flowing into the sea at Kadalundi Nagaram. It passes through places like Melattur, Pandikkad, Malappuram, Pankkad, Parappur, Kooriyad and Tirurangadi. Kadalundipuzha has a circuit course of 130 km.
Kottakkunnu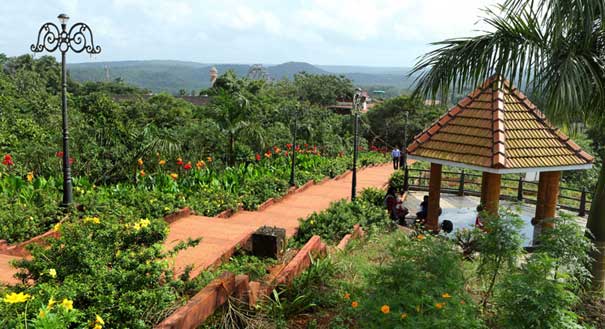 Kottakkunnu('the mount with the fort') is the highest point in Malappuram town, the headquarters of the district with that name. Actually, there is no fort there. It was the campsite of British military when it reached there in 1921 in large numbers to quell an uprising of Muslim peasants.
This is one of the recently developed tourist areas in Malappuram District. Kottakkunnu is situated at the heart of the Malappuram Town, which is on top of a hill. Located near the district collectorate in Malappuram, one can see traces of an old fort at the crest of the Cantonment Hill. The fort was the first to be built by the Zamorins of Kozhikode. Nearby are the Vettakkorumakan Temple and the Siva Temple with the famous murals of Malabar.
Besides all these attractions, the beautiful sunset that can be seen from the top of this hill is worth a visit to Kottakkunnu Hill. The local people consider this as a "mini Kanyakumari", to where they may plan a small honeymoon trip. Nearby one can see an amusement park with wonderful rides, and a water theme park. The beautiful scenery adds to the beauty at Kottakkunnu, and its surroundings at Malappuram.
Location
Kottakkunnu is just 12 km away from Manjeri and 25km away from Calicut airport. This place is well connected to famous towns like Kozhikode, Manjeri, Malappuram, Trichur etc by road. Taxi services are also there in large numbers, (Jeep, Cars like Indica, Ambassador etc, MUVs like Qualis, Invador, etc). The nearby places of tourist attraction are Kozhikode town, Kadampuzha famous for its Bhagawathy temple and Kottakkal known for its Ayurveda center, the Arya Vaidya Sala.
To learn more about the aesthetic beauty of Kerala, visit malappuram.net