Destination - Guruvayoor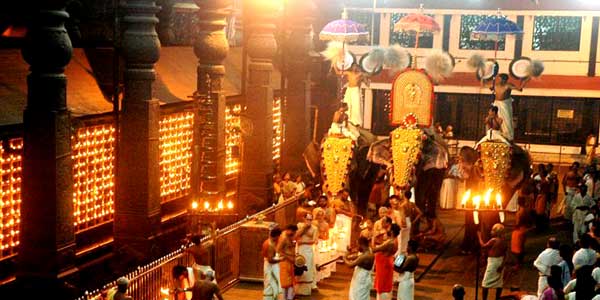 Guruvayoor is a thriving township in Trichur district and the abode of Hindu culture, religion, and mythology. The place is synonymous with the renowned Sree Krishna temple, the presiding deity of which is addressed endearingly by the devotees as Guruvayoorappan, in child's form. The holy shrine said to be more than 5000 years old, is believed to have been consecrated by the god of wind Vayu and Guru, the celestial preceptor. Interesting myths and folklore revolving around the lives of the natives abound in this temple town. Long is the list of devotees who confess to having undergone miracle cures for their ailments due to what they claim as the Lord's mercy. Many an austere poet and the literary figure has composed lyrics and prose in praise of the Almighty within the precincts of the temple.
The temple and its vicinity are noted for its long and eventful history. It's well known for its steadfast adherence to age-old traditions and rituals as also for its variety of religious festivals celebrated through the year. Entry for non-Hindus is a strict taboo. For orthodox Hindus, especially those following the Vaishnava cult, the temple and its surroundings manifest as the ultimate abode of spirituality. The temple is built as per traditional Kerala vasthu architecture, with the main Flagstaff made of pure gold. The tusks of Guruvayoor Kesavan, a majestic and pious temple elephant who offered his services at the temple for more than half a decade, are displayed at the front portion of the temple.
Numerous festivals are celebrated in the temple premises like Janmashtami, Guruvayoor Ekadasi and the 10-day annual 'Ulsavam' featuring the elephant feast, elephant race, and other grand events and ceremonies. The Chembai music festival featuring great Carnatic concerts by maestros is held every year commemorating the contributions of legendary musician Chembai Vaidyanatha Bhagawathar who was a staunch devotee of the Lord.
Highlights: Temple darshan – vasthu-built shrine – golden flagstaff – tusks of Guruvayoor Kesavan - elephant rally – rituals & offerings- temple festival- Prasada oottu, the feast for devotees
Tourist spots: Theerthakulam, the sacred pond - Punnathurkotta, home of trained temple elephants – Guruvayoor Kesavan memorial statue – auditoriums and marriage halls – shops for gifts, souvenirs
For Accommodation - Hotels / Resorts / Homestays at Guruvayoor
For more details about Guruvayoor Kerala, India, visit our exclusive portal - www.guruvayoor.org