Destination - Kumbalangi
Kumbalangi is a village in central Kerala located close to the commercial capital of Kochi in Ernakulam district. It's the destination of India's model tourism village set up by the central government and the only one of its kind in the country. The model village of Kumbalangi is a veritable treat to its visitors with the famous Chinese fishing nets and many other sights to savor.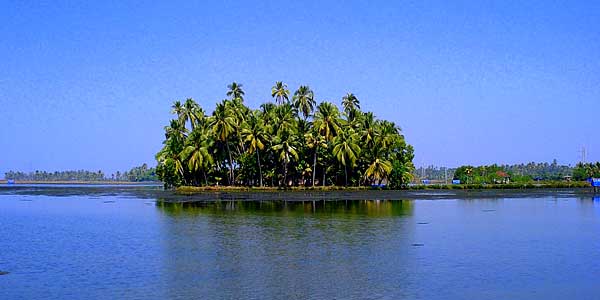 This coastal hamlet focussed on village tourism offers a fascinating glimpse of the frugal livelihood of the locals who practice a simple and sustainable lifestyle, unraveling a unique age-old culture. Kumbalangi is inhabited by about 30, 000 odd people who engage in indigenous occupations like fishing, coir weaving, copra making etc.
Kumbalangi has a calm and quiet landscape with warm and friendly people. This virgin land remains unspoiled by the excessive presence of tourists and is a safe place to relax and rejuvenate with the beauty of nature and richness of exotic cuisines. Spending a relaxing day at Kumabalangi getting a feel of the serene surroundings and tasting the local cuisine can be a treat for the mind and senses. The place witnesses a flurry of activities during the day such as boat building and masonry, manually operated coir looms, fish farms etc.
Kumbalangi is a land of mangroves surrounded by backwaters. A ring of Chinese fishing nets literally encircles the island –village bearing witness to the rich aquatic life. An array of mangroves separate land from water paving way for a breeding ground of prawns, crabs, oysters, and small fishes. The village is home to fishermen, farmers, laborers, toddy tappers and coir spinners.
Although situated on the outskirts of the city, Kumbalangi is well connected to the road by the mainland. It can be accessed without hassles both by road and rail. Plenty of KSRTC and private buses ply to and from the place frequently.
Highlights: Model tourism village – backwater island – rural/ eco-tourism site – Chinese fishing nets – aquatic biodiversity – mangrove ecosystem – fish farming – organic rice cultivation
Tourist spots: Homestays serving local seafood – fish, prawn & crab farms – Kalagramam art village – heritage walk - floating cottages – canoeing center
For Accommodation - Hotels / Resorts / Homestays at Kumbalangi
For more details about Kumbalangi Kerala, India, visit our exclusive portal -www.kerala.com/kumbalangi/index.htm