Bharath Murali …the man who hosted a thousand characters retreats to memory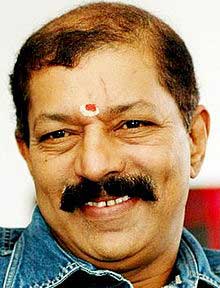 Veteran Malayalam actor Bharath Murali (55) passed away. Along with his demise, the Malayalam film industry has lost one of those dedicated exponents of realism who put the cinema through the down to earth experiences with their authenticity of experience and genuine expressions of different characterizations. Murali has been the product of the genuine cultural and social prototype where the so-called charisma and stardom never touched this man's choice for his roles and overtly influenced his social outlook.
Even while remaining a pro-communist Mr. Murli was a devotee and had held high the streams of Indian cultural thoughts and reflections. A truly convinced person of his commitment to his social cause and artistic inspirations, murali seldom compromised with this.``I am very particular that the roles I don should provide me with a sense of artistic satisfaction,'' Bharath Murali told in an interview given to the Manorama News channel.
Some of his best-known films which assured his unique place in the comity of Malayalam artists include `Aadharam', `Panchagni'and `Amaram'. Murali had won the Kerala State Film Award for best actor twice and a national award for best actor in 2002 for the film 'Neythukaran' directed by Priyanandanan, which also won him his second state best actor award. Some of his other notable films include 'Nee Ethra Dhanya', 'Dhanam', 'The King', 'Veeralippattu', 'Achan Kombathu Amma Varambathu', 'Meenamasathile Sooryan', 'Swarnam', and 'The Truth'. Murali first donned the grease paint on screen for the film 'Njattadi' which was directed by another actor of great caliber Bharat Gopi. Sadly the film never saw the light of the day.
Aravindan's Chidambaram and Lenin Rajendran's 'Meenamasathile Sooryan' followed soon. But it was the small but impressive role in the film 'Panchagni', scripted by MT and directed by Hariharan that brought him to the limelight. Murali bagged the national award for best actor for his role as Appumesthry in Priyanandan's 'Neythukaran'. Murali debuted as a hero through George Kithu's 'Aardram'. The role of Bapputti in the film also won him his first state award for the best actor. The audience accepted him in all type of roles including villainous roles and it became easy for him to make the shift from a negative shade to lead roles. He has also acted in several Tamil movies.
Born on 25th May 1954 as the first child of P. Krishna Pillai and K. Devaki Amma in Kudavattoor, Kollam, he completed his schooling from Kudavattoor L. P. School and Thrikannamangalam S.K.V. High School. Murali was active in school theatre but his destiny as an actor was groomed by his contact with thespians Narendraprasad and poet Kadammanitta, whom he fondly referred to as Guruji, while he was a student at Law Academy in Thiruvananthapuram. Murali grew up in a climate of left politics and always remained a faithful co-traveler of the Communist party in Kerala. He unsuccessfully contested the 1999 Lok Sabha elections as a CPM candidate from Alappuzha against V. M. Sudheeran of the Indian National Congress.
His closeness with the Communist Party of India-Marxist saw him being fielded by the party in the 1999 Lok Sabha polls from Alappuzha, but he lost to Congress veteran V.M. Sudheeran. Soon after the CPI-M backed Kairali TV channel was launched in the late 90s, Murali was a member of the director board that ran the channel. Murali was appointed the chairman of the Sangeetha Nataka Academy which has its headquarters in Trichur, soon after the present V.S. Achuthanandan government assumed office in 2006.
He has acted in more than 200 Malayalam and a few Tamil movies in a film career that began in the early 80s. Murali, who hails from Kollam, entered Malayalam films after a promising stint in theatre. After finishing his degree in law, he worked in the health department and later at the Kerala University. But acting is what beckoned him, and he quit his job and plunged into a full-time acting career.