Ambazhathil Karunakaran Lohithadas(10 May, 1955 – 28 June, 2009)
Lone star of real life scripting- Love was his lifeblood and story base.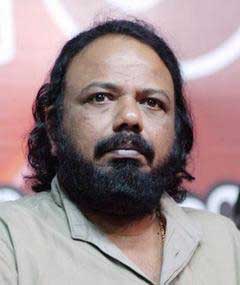 Without inspiration I cannot write even a word. As i sit for writing script, in fact, i don't know about its climax and other details in advance. What i do is to go on writing spontaneously till the end. If i find inspiration and words fail me, i will immediately stop writing and resume the exercise only after regaining my lost spirit. For me, writing script is a spontaneous flow of instantaneous characterisation.... Lohithadas.
He was a class by himself! A man who portrayed life in all its varieties and contradictions, inconsistencies and upheavals...
It was not out of nothing that he created his characters but on the contrary his characters partly or truly reflected his conception about certain human predicaments-much evident in his characterization of Sethumadahvan in kireedam and Achootty in `Amaram'. It is these predicaments or state of mind and situations that Mr Lohithadas cast his characters into and tried to convey the message through his films.
When his characters speak like common people of earthly feelings and spirit, when they expressed the desires and feelings of common men and women, when they were faced by the perplexities of life's mundane affairs, when they dance and sang over life's joys and sorrows, people feel that their experiences are being presented with a new born freshness of appeal.
And a story kept untold in the minds of the audience have been beautifully depicted and screened. The language that his characters spoke often identified much with the rustic accent of Kerala especially that of the Palakkad. His Highness Abdullah is a case in point.
Mr Lohithadas was a repertoire of human experience which he gathered through his dynamic interference with the society around. Much more was the value of his characterisation that Mr Lohithadas was able to impart a dramatic turn and humane twist to the story getting wide attention from film critics and audience. He intends to present through his films the human predicaments of love and thus creating a climax that sums up his mastery over characterisation, development of plots, cinematic techniques, event sequences, etc.
His life experiences cast into his artistic aspirations and creative genius had resulted in a slew of fantastic Malayalam films which at once proclaimed the duality of human life's state of affairs - love-hate, union-departure, happiness-agonies, relationship-enmity, human expectations-disappointments, undercurrent of fate, familial ties and overpowering control of fate running through all these!. This is evident in almost all of his films- Bharatham, Thaniyavarthanam, Kireedam, Chengol, Amaram, etc.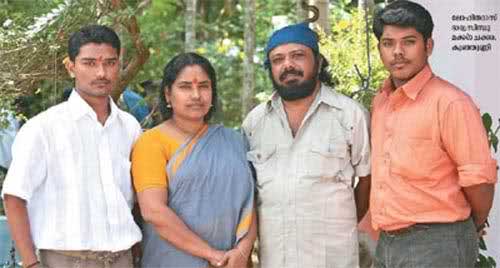 Each men felt the punch of hardcore characterization in Lohithadas's characters as something that he also as a typical role of father, son, lover and as a member of society wished to become but like the hero of the film, the decisive fate had snatched away the ideal self mercilessly. Women appreciated Mr. Lohithadas's films for its sentimental appeal.
He was a master craftsman with refined sentimentality which is so unusual of women, yet without losing touch of realistic characterization-even the female characters who represented bravery do it with certain amount of character justification. And thus become the inseparable part of the story . Women share with men the common pie of life's burdens and fateful junctures of life and its situations -brave, timely responsive and reasonable. Among the brightest stars of Malayalam's script writers including MT Vasudevan Nair, and Padmarajan, Mr.Lohitadas shines and shines almost alone and unique as a lone star narrating and typifying that is stuffed with the feel for real life experiences.
Lohitadas's characters spoke so immaculately about commonplace human emotions, hard core beliefs, perplexed by the fate's multidimensional intricacies placed amidst human relationships, balance of human life's realities. In Amaram, one of his best artistic creations and for that matter one of the best of the Malayalam industries, it is his observation of common human life and his artistic genius that created the film `Amaram'. ``One day i happened to see a fisherman father beating up his son for not going to school. I was surprised to see it for the father's strong sense of motivation about his child getting good education and thereafter professional life,'' Mr Lohithadas said in an interview.
``There i found the story line for the film `Amaram',''he says. From the threadbare of human situations are made his amazing creations of celluloid-Amaram. Let it be Bharatham, Kereedam, or Chengol, it is the struggle between human beings on the one hand and the omnipotent fate on the other hand that seem to stifle each other. Human beings caught in between the stranglehold of fate seem to believe that they are under the control of the fate and social taboos. The common appeal that runs through his films is that to a large extent his destiny as a partaker in these earthly activities is predestined or destined to happen. On the call of time and occasion, the hero had just to act it out, that is all he has to do and he can do!
What sets apart Mr Lohithadas's films is that the current of realistic appeal that runs from the story base to character development and climax. He never leaves it for granted that the audience's overplay of imagination will make the famous `willing suspension of disbelief' as the carnal of his story climax. He integrates his story plots with such an acumen of human social intelligence and artistic mastery that one may but wonder at his genius and artistic marvel.
Such is the predicament of his heroes and heroines in his films that one may see they are either crushed against the mighty forces of fate or stand helplessly at the face of it. It is what the films like Chenkol, and Kireedam present before us. Kireedam, the film that raises that much questions about a man's duty to his family, and society and moreover his moral responsibility to himself is well portrayed in it. And the cruel fate seems to put him in such a predicament that nothing can save him except the ordeal of institutional punishment in the form of imprisonment.
Some of Lohithadas's works
*Thaniyavarthanam (1987)
*Kireedam (1989),
*His Highness Abhdullah (1990),
*Bharatham (1990)
*Kamaladalam (1992),
*Chenkol (1993)
*Sasneham (1990)
*Veendum Chila Veetukaryangal (1999)
As a filmmaker and made films;
*Boothakannadi (1997)
*Karunyam (1997)
*Kanmadam (1998)
*Arayannangalude Veedu (2000)
*Joker (2000)
*Kasthooriman (2003)
*Nivedyam (2007)
Most of his works were critical and commercial success.
His works were recognised from his very first venture Thaniyavarthanam which brought him Kerala State Film Award for Best Story .
Recognition all the way…

Awards
*45th National Film Award for Best film - Bhoothakannadi (1997)
*Kerala State Film Award for Best Story - Thaniyavarthanam (1987)
*Kerala State Film Award for Best Film - Bhoothakannadi (1997)
*Tamil Nadu State Film Award for 2nd Best Film - kasthoorimann (1997)
*Film Critics award for Best script - Thaniyavarthanam (1987)
*Film Critics award for Best script - Dasaratham(1989)
*Film Critics award for Best script - kireedom(1990)
*Film Critics award for Best script - Bharatham(1991)
*Film Critics award for Best script - chenkol(1993)
*Film Critics award for Best script - Chakoram(1994)
*Film Critics award for Best script - Sallapam(1995)
*Film Critics award for Best script- Thoovalkottaram(1996)
*Film Critics award for Best script- Bhoothakannadi(1997)
*Film Critics award for Best script- Ormacheppu(1998)
*Film Critics award for Best script- Joker(1999)
*Film Critics award for Best script- Veendum chila veetukaryangal(2000)
*Film Critics award for Best script- Kasthooriman(2003)
*Film Critics award for Best script- Nivedyam(2007)
*Film Critics award for Best Director- Bhoothakannadi(1997)
*Film Critics award for Best Director- Joker(1999)
*Film Critics award for Best Director- Kasthoorimann(2003)
*Film Critics award for Best Director- Nivedyam(2007),