Ancient ethnic jewellery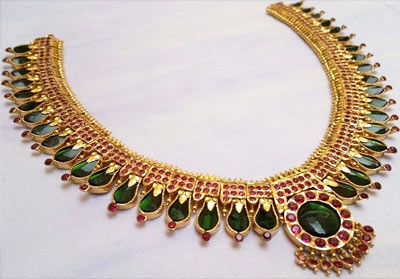 Down the ages, jewellery has been an obsession with women in Kerala. It has always occupied a special place in their heart since ancient times. Jewellery in Kerala has originated from the age-old customs and beliefs. The designs vary in size and shape and are indeed a treat to the eye. They range from the elaborate and exquisite, to the simple and functional. The nagapadam or serpent-hood pendant of Nair women, the cherutali necklace of Namboodiri ladies, and the mekka mothiram worn by Christian women are classical examples of traditional jewellery of Kerala.
Ornaments of different patterns are used by women of all communities and castes. These ornaments are for the neck, the arm, the nose and the ankle. The oldest ornament of the Nair women for the neck was the nagapada thali or nagapada thali meaning the serpent's hood, so called after the shape of the pendant. Among other necklaces were nalupanti, addiyal, poothali, avil mala, patakkam etc. The ornaments for the nose were mukkuthi and nattu. The Namboothiri women do not wear costly ornaments. The kaasumala and the oddyanam were the most characteristics of their ornaments.
Contemporary casual jewellery
The mindset of Indians regarding conventional jewellery has undergone a sea change. There are a plethora of designs to select from. The latest trends in South Indian jewellery have been chokers, pendants, bracelets, casting lockets, hip-belt, and mango-patterned necklaces. Colored gold is also the current rage among buyers. The current trend is towards delicate and sober/chunky and showy designs. This is the reason why showrooms are now filled with gajras, bracelets, pendants, and chokers to cater to customer preferences. Some shops confirm that in order to adopt new techniques in jewellery fashion, computer-aided designs are being incorporated.
Variety of ornaments
Rings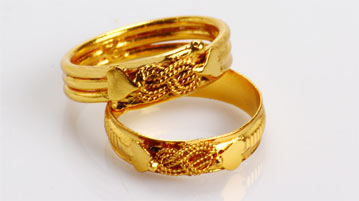 The women of this state are unique in that even today, for various reasons, the use of ornaments continues with undiminished zeal. Of these, the ring in its various forms adorns the nose, ears, fingers and toes. Amulets were worn as a charm against evil also come in the form of rings. Rings for the ten fingers form a part of the ring ornament in the collection of rings. Aranjanam is another set of ornaments worn around the waist. The traditional and religious significance of rings is never lost sight of. Pavithra mothiram was worn by the upper-class women on religious occasions. They are one of the most important pieces in jewellery in the list of ornaments right now. Bright fsparks are drawing out new designs that have an emphasis on style and class.
Ear ornaments
The shape and size of ear ornaments vary enormously. They can be decorated in an immense number of ways including embellishments with enamel, stones, or pearls. Almost any type can have additional small decorative chains and hanging miniature pendants often in small leaf shapes, balls or bells; and jhumkas are still in. Some earrings are so heavy they must be supported by a cord or chain. They are often very elaborate and pass over the ear, or are hooked to the hair. Other types of unsupported ear ornaments are worn from a hole in the lobe, which as a result, is permanently stretched to an unimaginable degree.
Bangles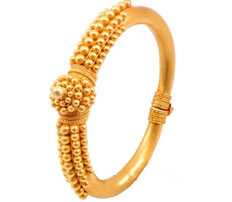 Bangles are any woman's delight. Right now we see trendy bangles neatly curved and carved with ethnic beauty mainly catering to the bridal needs and would definitely bring a smile to anyone who wants to pick up handy bangles for that most important day. A Vala and kapu are seen in vivid designs and form the main requirements for any set of traditional bangles. Bangles also come in pairs and sets and in different moulds. The jingling and pretty glass bangles in plain and designed hues are out of fashion.Instead, the present rage, especially among teenagers, is dainty multicoloured bangles with miniature golden danglings as well as beaded bangles that go well with saris, skirts and chudis. Then there is the more bold and chunky designer version that comes in singles which complements modern dresses like jeans and pants.
Chains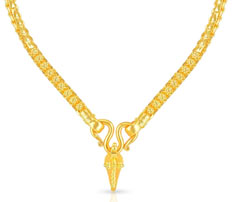 Chains that come with or without lockets, chokers and necklaces form an important part of women's jewellery. Minnu is the marital symbol of Kerala Christian women. It has a pagan origin. The shape of minnu is like a cobra's hood. It is borrowed from the Hindu thali. The ornaments for the nose were mukkuthi and nattu now these can be seen in different sizes from a small round shaped balls, to simply studded diamonds, to flat discs with ornamental surfaces.
Kerala indeed showcases a whole treasure of jewellery ranging from the traditional to the contemporary, rich in design and quality, highly suited to enhance the feminine beauty and its rich culture.The designs in solid gold are inspired by nature. The paisley motif or the ambi, rice/wheat grains, the cobra's hood, melon and cucumber seeds are some of the common motifs.Although the present generation seems to be favouring the more casual and designer varieties of the yellow metal at least in terms of everyday wear, there is no doubt about the fact that the traditional jewellery of Kerala is here to stay for as long as weddings and religious rituals last.
Diamonds and Designs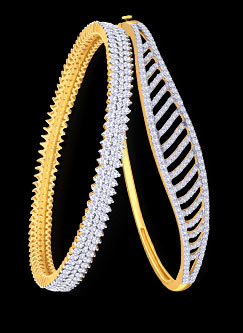 In the old days, very few people bought diamonds and there were no jewellery stores as such. Instead, people went to the goldsmith's home and got their jewels ordered. But now, with so much of disposable income and raised standards of living, almost everybody has at least one piece of diamond jewellery.
With so much exposure to international designs in diamond jewellery through the Net, people now want jewellery designed according to their wishes. So famous jewellery shops in cities have their own in-house designers who do the designing according to the customer's likes and fancies. Exclusive designs are made for customers and the jewellery houses opine that it is very challenging to be in the business today.
The branded jewellery shops guarantee the authenticity of every gem sold and some of them issue certificates to testify to the genuineness. Many of the branded shop owners are designated as Fellows of the Gemmological Association and Gem Testing Laboratory of Great Britain and such other institutions. They feel that this expertise is taken care of, as awareness of gems increase and people demand proof of their authenticity.
New trends
There is the misconception that gold is gold only if it is 22 carat. Going by the statements of reputed jewellers in Cochin city, there is good 18-carat gold and good 14-carat gold, especially to set diamonds. The trend among westerners who have white skin is not to go for 22-carat gold. They go in for 18 or 14 carats as it looks good for them. .
Likewise another trend is going in for platinum. As the purchasing power of people increases, so too the demand for gems, as they buy stones according to the stars they are born under and also for luck.
Wearing a ring for mere beauty's sake is passé. Now people do it for wealth, education and good health. So, not only are diamonds forever but nowadays diamonds are for everyone as well!
The right earrings for the right face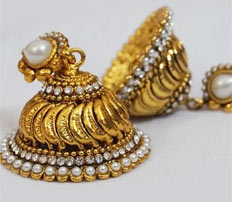 Did you know that to flatter your face, you should pick the right kind of earrings? Just stop buying something because your neighbour has one like that, or your mother in law hates that kind of pattern, and find a pair that will truly make you ear-resistible!
* Oval, asymmetrical or angular shapes flatter a round face.
* Long faces benefit from broad-shaped styles.
* Avoid drop earrings if you have a long face or a short neck.
* Larger earrings make the nose look smaller.
* Dome-shaped styles help to de-emphasize a prominent nose.
* Pearl, turquoise, ruby, coral and garnet earrings are flattering on those with fair complexions and brown hair.
* Multicoloured earrings help brighten anyone's complexion.
* Ruby, garnet and diamond earrings are flattering to all face shapes.
* Slender petite women need light, delicate, airy shapes.
For everything on Fashion in Kerala, visit Keralafashions.com