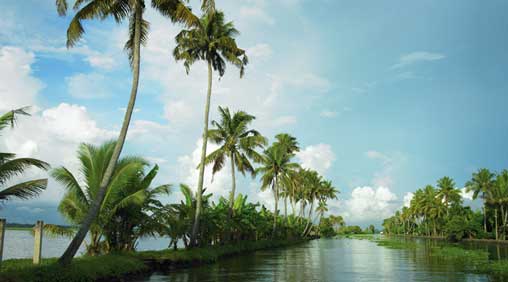 With the Arabian Sea on the west and a vast network of lakes, lagoons and water rivers crisscrossing it, Alappuzha is a district of immense natural beauty. Referred to as the Venice of the east by travellers from across the world, this backwaters country is also home to diverse animal and bird life.
By virtue of its proximity to the sea, the town has always enjoyed a unique place in the maritime history of Kerala. Today, Alappuzha has grown in importance as a backwater tourist centre, attracting several thousands of foreign tourists each year. Alappuzha is also famous for its boat races, houseboat holidays, beaches, marine products and coir industry. A singular characteristic of this land is the region called Kuttanad.
The most competitive boat race in India, the Nehru Trophy Boat Race, takes place in the Punnamada lake in Alappuzha, which takes place on the second Saturday of every August. Water transport is very popular in Alapuzha because of the presence of a lot of backwaters and canals. The National waterway – 3 passes through Alappuzha and the boats provide services to Kottayam, Kollam and Changanassery town besides the local areas of Alappuzha.
Kuttanad
Kuttanad called the rice bowl of Kerala because of her wealth of paddy crops is at the heart of the backwaters. The scenic countryside of Kuttanad with its shimmering waterways also has a rich crop of bananas, yams and cassava which accompany the rice bowl as "side dishes". This is one of the places in the world where farming is done below sea level. Inland waterways which flow above land level is an amazing feature of this unique land.
Pathiramanal(14 Kms from Alappuzha)
According to the mythology, a young Brahmin dived into the Vembanad Lake to perform his evening ablutions and the water made way for land to rise from below, thus creating the enchanting island of Pathiramanal (sand of midnight). This little island on the backwaters is a favourite haunt of hundreds of rare migratory birds from different parts of the world. The island lies between Thaneermukkom and Kumarakom and is accessible by boat.
Related links