Bordered by the lofty Western Ghats on the east, the Vembanad lake and the paddy fields of Kuttanad on the west, Kottayam is a land of unique characteristics. Panoramic backwater stretches, lush paddy fields, highlands, extensive rubber plantations and totally literate people have given this district the title: the land of letters, latex and lakes.
Kumarakom (10 Kms from Kottayam)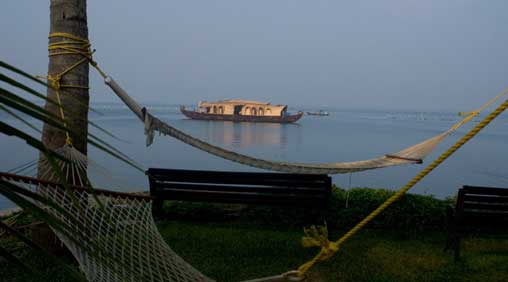 A Voyage north of Alappuzha takes you to the rich green, the sleepy little village of Kumarakom on the Vembanad lake. An enchanting picnic spot and a fast developing backwater tourism destination, Kumarakom provides boating, fishing and sightseeing experiences that are truly exhilarating. An exclusive attraction of this much sought after backwater resort is the Kumarakom Bird Sanctuary.
The Kumarakom Bird Sanctuary is an ornithologist's paradise and a favourite haunt of migratory birds like the Siberians stork, egret, darter, heron and teal. A cruise along the Vembanad lake is the best way to view the bird life.
Vembanad Lake is the largest lake in the state of Kerala and the longest lake in India, and is famous for being conducted the Nehru Trophy Boat race on it. Kumarakom before the 1750s was in the jurisdiction of the King of Thekkumkur and during that time, the Vembanad Lake was a dangerous area as it had to witness a lot of fights between different kings. The kings used small boats like chundan vellam and veppu vellam for their lightening attacks and constructed a fort at the entrance of Kottathodu in Kumarakom for protection. The remains of the fort can be seen near the village of Kumarakom. Being the largest backwater in Kerala, Vembanad lake is home to large varieties of marine species like Karimeen (Pearl Spot), Poovalan Chemmeen (Shrimp) etc. The major economic activities of Kumarakom are agriculture, fishing and tourism. The perfectly balanced tropical climate makes the land beneficial for agriculture. Other than its paddy fields, the place has streches of mangrove forests, coconut groves and fruits like Banana, Mango, Jack fruit, Ambazhanga, Tamarind, Chaambenga, Guava, Aethekka and Pineapple. There are several budget and luxury resorts situated on the banks of the lake of Vembanad which provides its visitors the chance to go fishing, yachting and boating. Kumarakam is also a favourite spot for history lovers because of the Bay Island Drift Museum near the Kumarakom Beach. Another breathtaking sight is the Aruvikkuzhi waterfall and its rubber plantation. The tourists also get attracted by the houseboat and the place is world famous for it.
Related links