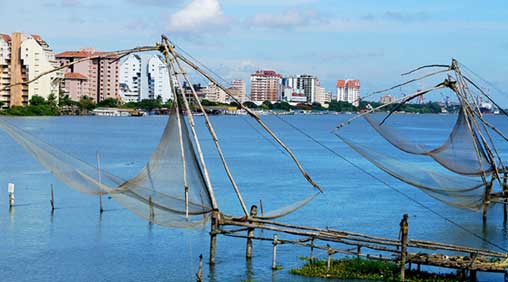 More popular as the Queen of the Arabian Sea, Kochi is a cluster of islands on the vast expanse of the Vembanad Lake. Some of these picturesque islands are Bolgatty, Vypeen, Gundu and Vallarpadam. The lake opens out the Arabian Sea here to form one of the finest natural harbours in the world. It is this natural advantage that has made Kochi a fascinating blend of the cultures and influences of explorers and traders who visited this wealthy land.
The district is home to 12% of the population of Kerala and is known as the commercial capital of Kerala. Ernakulam is the highest revenue yielding district in Kerala and also the district that hosts the maximum number of tourists every year. Even though the head quarters of Ernakulam was situated in Ernalukam in the earlier times, it was later on shifted to Kakkanad. Ernakulam is the largest producer of nutmeg and pineapple and is considered the urban face of Kerala, being the political, cultural and industrial hub of the state. The Ernakulam district is also the most liveliest districts of Kerala with its luxurious shopping malls, a multitude of restaurants, the Kochi metro and what not!
The Arabs, Chinese, Portuguese, Dutch and the British have all left their mark here. The Jewish synagogue, the Dutch Palace, the Chinese fishing net and other remnants of European and Asian architecture merge smoothly into the traditional fabric of the seaport city.
Backwater cruise conducted by KTDC
1.Boat cruise
(daily two trips: 09:00 - 12:30 & 14:00 - 17:30hrs) from Kochi harbour to Willington island, Mattancherry Palace, the Jewish Synagogue, Fort Kochi and Bolghatty Island
2. Sunset Cruise (17:30 - 19:00 hrs)
3. Three-hour backwater villages cruises which include a visit to coir villages and coconut plantations (daily)
Related links