The northernmost district of Kerala, Kasargod is situated on the sea coast bordered by hilly Kodagu and Mangalore districts of Karnataka on the east and north. Fishing is a prime source of livelihood along with the coir and handloom industries. With its unique natural and cultural attractions, Kasargod is known as the land of Gods, forts, rivers, hills and beautiful beaches.
The Bekal fort, which stands on a 35-acre headland that runs into the Arabian sea is the largest and the best-preserved fort in the State.
BACKWATERS
Padanna Backwater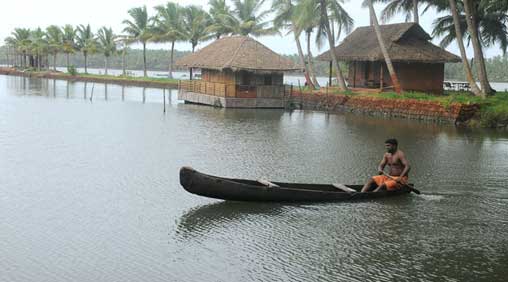 The long shores and starry skies of Padanna Backwaters have attracted odes from awestruck visitors who stumble across this secluded hamlet. Padanna is among Northern Kerala's finest backwater locations. This tranquil destination is renowned because Padanna works hardest to give you time away from urban life.
Chandragiri (4 Kms from Kasargod town)
Situated on the Chandragiri river, southeast of Kasargod town, this town is Known for its large 17th-century fort built by Sivappa Naik of Bedanore. The Chandragiri fort, one of a chain of forts built by the same ruler, offers a breathtaking view of the river and the Arabian sea. It is a vantage point to watch the sunset.
Chandragiri Cruises
Boat trips to nearby islands and palm groves are possible. Boarding point: Chandragiri bridge.
Valiyaparamba (30 Km from Bekal Fort)
This is perhaps the most scenic backwater stretch in Kerala. Fed by four rivers and dotted with numerous little islands. Valiyaparamba is fast turning into a much-favoured backwater resort that offers enchanting boat cruises.
Related links