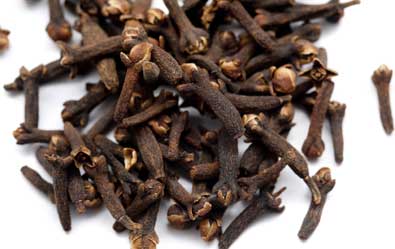 A flavoring agent & local anesthetic for toothaches.
Small, reddish-brown flower bud of the tropical evergreen tree Syzygium aromaticum (sometimes Eugenia caryophyllata) of the family Myrtaceae, important in the earliest spice trade and believed indigenous to the Moluccas, or Spice Islands, of Indonesia. Strong of aroma and hot and pungent in taste, cloves are used to flavor many foods, particularly meats and bakery products.
Clove was first introduced to India around 1800 AD by the East India company in its 'spice garden' in Courtallam, Tamil Nadu. Induced by the success of its introduction, cultivation of clove was extended during the period after 1850 AD to Nilgiris (Burliar), the southern region of the erstwhile Travancore State and the slopes of Western Ghats.
The important clove growing districts in India now are Nilgiris, Tirunelveli, Kanyakumari, Nagercoil and Ramanathapuram districts of Tamil Nadu, Kozhikode, Kottayam. Kollam and Thiruvananthapuram Districts of Kerala and South Kanara district of Karnataka.
Uses
Cloves vary in length from about 1/2 to 3/4 inch (13 to 19 mm). They contain 14 to 20 percent essential oil, the principal component of which is the aromatic oil eugenol. Cloves are strongly pungent owing to eugenol, which is extracted by distillation to yield oil of cloves.
This oil is used to prepare microscopic slides for viewing and is also a local anesthetic for toothaches. Eugenol is used in germicides, perfumes, and mouthwashes, in the synthesis of vanillin, and as a sweetener or intensifier.
Propagation & Planting
Clove is propagated through seed obtained from ripened fruit, known, popularly as 'mother of clove'. Fruits are taken from trees with more than 15 years of age and regular yielding nature. The ripened seeds have to drop down naturally.
Such fruits are picked and sown directly in the nursery. Otherwise, fruits are soaked in water overnight and the seeds obtained after removal of the pericarp are sown. Seeds are good for better and early germination. Only fully developed and uniform sized seeds which show signs of germination by the presence of pink radicle are ideal for sowing.
Heaping the fruits for one or two days or keeping them in airtight bags leads to the death of seeds. The Clove trees begin to bear flowers 7-8 years after planting. Unopened flower buds are carefully picked when they turn from green to pink. The buds are then allowed to dry for 4-5 days till they become crisp and dark brown in color. Cloves are an essential ingredient of Kerala cuisine.