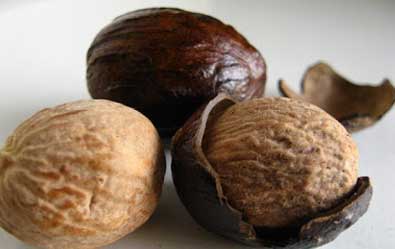 Nutmeg is the seed of Myristica fragrans, an evergreen tree. Interestingly, the tree produces both Nutmeg and mace and grows up to 60 feet tall. Although the tree takes seven years to bear fruit, it may produce until the 90th year. Both spices come from the tree's fruit, which splits into a scarlet outer membrane, mace, and an inner brown seed, Nutmeg.
History/Region of Origin
Indian Vedic literature recommended Nutmeg for bad breath, headaches, and fever. Arabian writing mentions its uses as an aphrodisiac and stomach medicine. Middle Eastern traders brought Nutmeg and mace to Southern Europe in the sixth century, and they were well-known by the twelfth century from Italy to Denmark. The Portuguese found Nutmeg trees in the Molucca Islands and dominated the Nutmeg and mace trade until the Dutch overcame it in 1602. Unaware that the spices came from one tree, one Dutch official ordered the Moluccan islanders to plant more mace trees and fewer Nutmeg trees. Nutmeg production spread to the West Indies, Trinidad, and Grenada under the British in the 1800s.
A Few Ideas to Get Started
The sweet but slightly bitter flavor of Nutmeg adds character to vegetables. A little goes a long way so try 1/8 teaspoon per 4 servings to start. Just sprinkle it lightly over veal, fish, or chicken for a surprising snap. Use as a topping for whipped cream, custard, and eggnog. Ground Nutmeg is an ideal baking spice and is especially complementary in a sweet bread, cakes, muffins, cookies, and fruit pies.
Taste and Aroma
Nutmeg is more pungent and sweeter than mace.
Traditional Ethnic Uses
Nutmeg is a mild baking spice and is used in sausages, meats, soups, and preserves. Nutmeg is commonly added to eggnog, puddings, and fruit pies. It is popular in The Netherlands and Italy, where it is used in vegetables, puddings, and stews.
Essential oils
The essential oil is obtained by the steam distillation of ground nutmeg and is used heavily in the perfumery and pharmaceutical industries. The oil is colorless or light yellow and smells and tastes of nutmeg. It contains numerous components of interest to the oleochemical industry and is used as a natural food flavoring in baked goods, syrups (e.g. Coca-Cola), beverages, sweets etc. It replaces ground nutmeg as it leaves no particles in the food. The essential oil is also used in the cosmetic and pharmaceutical industries for instance in toothpaste and as a major ingredient in some cough syrups.
In traditional medicine nutmeg and nutmeg oil were used for illnesses related to the nervous and digestive systems. Myristicin and elemicin are believed to be the chemical constituents responsible for the subtle hallucinogenic properties of nutmeg oil. Other known chemical ingredients of the oil are a-pinene, sabinene, terpinene, and safrole.
Externally, the oil is used for rheumatic pain and, like clove oil, can be applied as an emergency treatment to a dull toothache. In France, it is given in drop doses in honey for digestive upsets and used for bad breath. Put 1-2 drops on a cotton swab, and apply to the gums around an aching tooth until dental treatment can be obtained. Use 3-5 drops on a sugar lump or in a teaspoon of honey for nausea, gastroenteritis, chronic diarrhea, and indigestion. Alternatively, a massage oil can be created by diluting 10 drops in 10 ml almond oil. This can be used for muscular pains associated with rheumatism or overexertion. It can also be combined with thyme or rosemary essential oils. To prepare for childbirth, massage the abdomen daily in the three weeks before the baby is due with a mixture of 5 drops nutmeg oil and no more than 5 drops sage oil in 25 ml almond oil.
Culinary uses
Nutmeg and mace have similar taste qualities, nutmeg having a slightly sweeter and mace a more delicate flavor. Mace is often preferred in light-colored dishes for the bright orange, saffron-like color it imparts.
1. In Indian cuisine, nutmeg is used almost exclusively in sweets.
2. In European cuisine, nutmeg and mace are used especially in potato dishes and in processed meat products; they are also used in soups, sauces and baked goods.
3. Japanese varieties of curry powder include nutmeg as an ingredient.
4. Nutmeg is a traditional ingredient in mulled cider and mulled wine.
5. Nutmeg powder is used as an ingredient, in small quantities, in the Indian spice mixture garam masala, which is a mixture of dry spices. It is also used as a flavoring agent in Indian sweets.
Medicinal Action and Uses
The tonic principle is Myristicin. Oil of Nutmeg is used to conceal the taste of various drugs and as a local stimulant to the gastrointestinal tract.