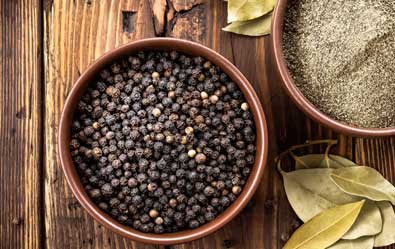 This is rightly known as the 'King Of Spices' and is one of the best-known spices in the world.
Kerala has always reigned supreme in the production and export of this most exotic and sought-after spice. One of the earliest spices known, pepper is probably the most widely used spice in the world today.
Kerala's pepper reached Europe through Arab traders who held a monopoly over its trade. Europe in the middle ages saw the enormous potential of pepper as a food preservative and eagerly sought to control its trade. The potential profits by trading in pepper were to lead to the earliest colonial conquests and wars. Easily the finest in quality anywhere, Kerala's pepper is grown in along the low lands and high ranges of Kerala.
A combination of natural advantages and organic techniques produces bigger, better-shaped, more aromatic and flavored pepper, better than anywhere else in the world. The 'Malabar Garbled' and 'Tellichery Extra Bold' are some of the more famous varieties of pepper. Pepper is a perennial climber requiring the support of live or dead trees.
Medicinal Value:
It has a limited usage in medicine as a carminative and as a stimulant of gastric secretions.
Propagation:
Propagation is by stem cutting.
Varieties:
Panniyur-1, Karimunda, Kuthiravally, Arakkulam Munda, Balankotta and Kalluvally