Idukki Wildlife Sanctuary
Idukki, once covered with some of the densest evergreen forests in India, has now been seriously denuded as a result of the construction of the Idukki dam in the 60's. Subsequently, Idukki Wildlife Sanctuary came up, extending over Thodupuzha and Udumpanchola taluks of Idukki district and spreading over 77sq km at 450 - 748m above sea level. The Idukki reservoir formed by three dams-Cheruthoni, Idukki and Kulamavu - extending up to 33 sq. km - forms part of this wildlife sanctuary.
Elephants, Bison, Sambhar, Deer, Wild dogs, Jungle cats, Tiger, Wild boar etc are found here, as also Junglefowl, Myna, Laughing Thrush, Black Bulbul, Peafowl, Woodpecker, and the Kingfisher. For more details on a wildlife sanctuary, Idukki tourism, tourist information, Idukki accommodation, spices etc. visit our site: idukki.net
Thekkady Wildlife Sanctuary
Thekkady Wildlife sanctuary (also called Periyar Tiger Reserve) is a fine example of good management of forests. The sanctuary, which was a game reserve, merged with the Forest Department in 1966. It was declared a Tiger Reserve in 1978 under the Project Tiger scheme. In 1982 the core area of the reserve (350 sq. km.) was notified as National Park. The entire Park covers hills and verdant forests extending over an area of 777 sq. km. It will be no exaggeration to say that Thekkady Wildlife Sanctuary Park is one of the finest wildlife sanctuaries in India. Here, in the crisp, cool air of the Western Ghats, you will experience wilderness and abundant wildlife first hand. The uniqueness of this sanctuary is the Periyar lake, an artificial lake, which was created by damming the Periyar river a century ago.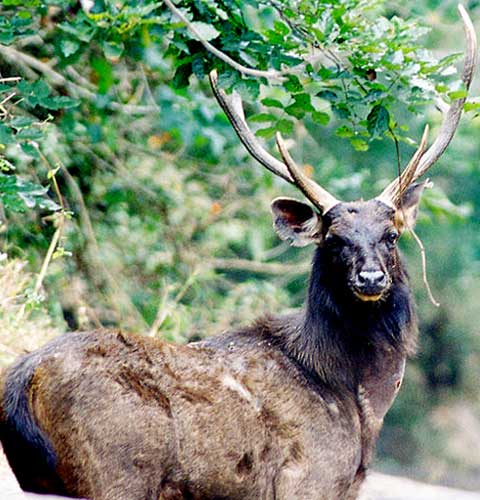 The open grasslands are home to a magnificent variety of animals - the elephant, the bison, Gaur, Sambar deer, Barking deer, Mouse deer, Nilgiri langur, Bonnet macaque, Lion-tailed macaque leopards, Jungle cats, Wild dogs and most importantly the tiger. An estimated 40 tigers inhabit the Reserve. Other important animals are bear, Porcupine, Jackal, Indian Giant Squirrel, Malabar flying squirrel, Wild boar, small Indian Civet, Mongoose, and the Pangolins. The tiger is the main predator in the Periyar Tiger Reserve.
Periyar Tiger Reserve is also rich in bird life. Birds such as Malabar Hornbill, Grey heron, Jungle fowl, and Jungle Mynah are some among the 266 species of birds which are residents of this forest range. For more details on Idukki tourism, tourist information, accommodation at Idukki, spices etc. visit our site: thekkady.com
Chinnar Wildlife Sanctuary
Chinnar is a unique thorny scrub forest in the rain shadow region of the Western Ghats, about 40 km from Munnar. The Chinnar Wildlife Sanctuary is around 90 sq. km in area and its rugged undulating terrain has held a special fascination for the adventure traveler. It is the second habitat for the endangered Giant Grizzled Squirrel (an endangered species) in India.
The altitude varies from 500 to 2400 meters and one can sense the drastic variation in the climate and vegetation since the gradients are quite steep and drastic. The highest peaks are Kottakombumalai (2144 meter), Vellaikal malai (1863m) and Viriyoottu malai (1845 meter). Unlike other forests of Kerala, Chinnar gets only about 48 rainy days in a year during October - November (North - East Monsoons). The forest types comprise thorny scrub forests, dry deciduous forests, high shoals, and wet grasslands.
Elephants, Gaur, Panther, Spotted deer, Sambar, Giant Grizzled Squirrel, Hanuman monkey, Rabbit etc. inhabit the Chinnar forests. For more information, please visit our site munnar.com