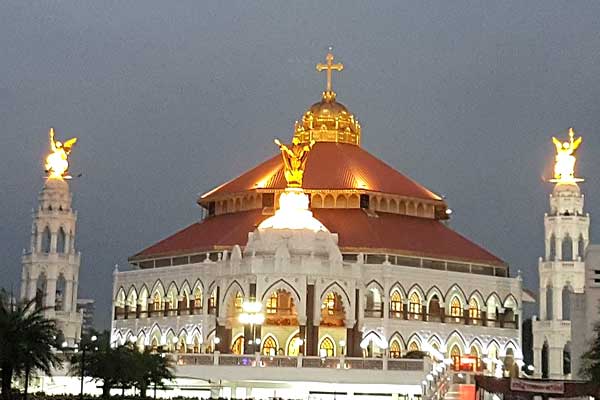 Every year 'Forty hour devotion' marks the commencement of the festival. The festival begins on the 23rd of April with solemn High Mass and Litany. On the 25th flag is hoisted solemnly and ceremoniously.
Edappally Perunnal or St George feast is the annual festival celebrated in St.George's Forane Church in Edappally in Ernakulum District which is one of the oldest Roman Catholic Church in Kerala. The history of this church dates back to 6th century when it was a small shrine and a big church adjacent to the old shrine was built during the 11th century.
Every year fourty hours of devotion marks the commencement of the festival. The annual feast at the St. George's Forane Church is celebrated on 3rd and 4th of May and the Octave on 10th and 11th. The Flag is hoisted on 25th of April. There are 40 hours Adoration and 9 days of Novena in preparation for the Feast. Devotees shower betel leaves and puffed rice on the Roopakoodu. The procession takes more than an hour to wind its way back to the church. The colourful procession of the feast days is very remarkable and is attended by tens of thousands. The statue of the Saint is welcomed in front of the houses by showering betel leaves, crushed rice and popped rice and by colourful fireworks.
One can easily reach the church as it is just 500 metres from the intersection of NH 66 and NH 544. The nearby airport is the Kochi International Airport in Nedumbassery which is 22 kms away from the church. The railway station is 3 kms away from the church and the Kochi Metro runs in front of it.
On 18th January 1994, the church celebrated the 1400th anniversary and the chief guest of the funtion was Mother Teresa who visited the church from Calcutta. The architecture used is the mixture of architecture from Kerala as well as Europe and the altar is made of teak plated with gold foil imported from Italy. The marble used in its construction is the Vietnamese marble. The capacity of the church is too big that it can hold upto 10,000 people at a time. The church has a well and its water is believed by the devotees to have curative powers.