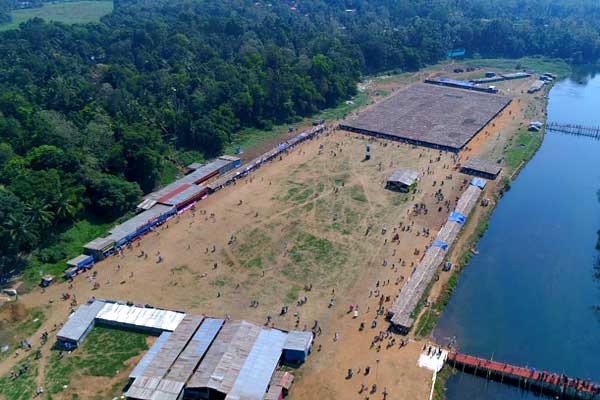 Maramon and Kozhencherry , on the banks of the river Pampa, 16 kilometers east of Tiruvalla, have for centuries been recognized as centres of Christian culture and influence. Maramon is also famous as the birthplace of Palakkunnathu Abraham Maplah, leader of the reformation in the Syrian Church of Malabar in the 19th century. This village which developed into a town has the added distinction of being the venue of a religious gathering known as Maramon convention, said to be the largest Christian gathering in Asia.
It is during the month of February on the vast sand-bed of the river Pampa below the Kozhenchery bridge that the Maramon Convention is held every year. The Maramon Convention displays co-operation and union between different sections of Church in Kerala. It fosters ecumenical outlook. It is also a source of spiritual inspiration and enlightenment for thousands.
The 111th edition of Maramon Convention, billed as Asia's largest annual Christian congregation, will be held on the sand-bed of the Pampa at Maramon near Kozhencherry from February 19 to 26. The convention is organised by the Mar Thoma Evangelical Association (MTEA), the missionary wing of the Mar Thoma Syrian Church of Malabar. Fr. Mathew said that Mar Thoma Metropolitan Philipose Mar Chrysostom would inaugurate the convention at 2.30 p.m. on Sunday. Joseph Mar Irenaeus Suffragan Metropolitan, Zacharias Mar Theophilus Suffragan Metropolitan and other bishops of the Church will lead different sessions during the week-long meet. He said there would be three main sessions, at 10.30 a.m., 2.30 p.m. and 7 p.m., from February 20 to 25 and the valedictory session would be held at 2.30 p.m. on February 26. Evangelists Bishop David J.L. Hawkins (England), Bill Newman (Australia), Martin Alphons (U.S.) and Sam Kamalesan (U.S.) will deliver discourses at different sessions. An ecumenical meeting will be held at 10.30 a.m. and a meeting against social evils at 2.30 p.m. on February 22. The Voluntary Evangelistic Association meeting will be held on February 23 afternoon. The annual meeting of the Mar Thoma Sevika Sanghom will be held at 2.30 p.m. on February 24 and a missionary meet on Saturday afternoon.