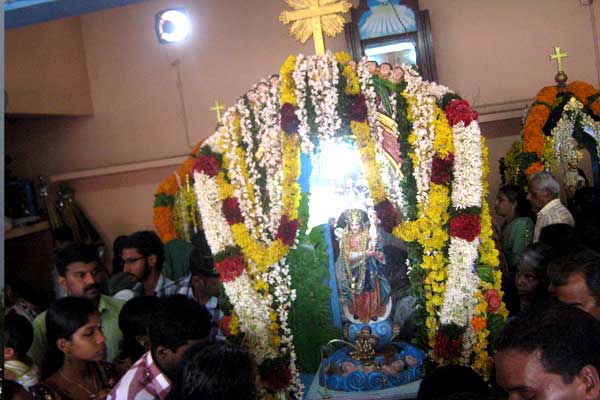 About seven kilometers to the south of Chalakudy, there is an ancient and beautiful village called Koratty. There is an old catholic church there built in honour of St. Mary which is locally known as "Koratty Muthy's Church". The most important festival in this church is the 'Koratty Muthy's festival celebrated during the second week of October every year.
Every year in the second week of October, the St. Mary's Church witnesses a grand festival- the Koratty Muthy's Feast. The festival is dedicated to Virgin Mary, locally known as Koratty Muthy and is marked by a vibrant pageantry and rituals. The festival enjoys wide participation and has a rustic charm to it. It is held in Koratty, a scenic village in Thrissur district. Koratty Muthy's St Mary's Forane church is a standout amongst the most vital Marian Pilgrim Center in India after Velankanni. The Church is situated in an excellent, scenic town of Koratty named after the congregation in Thrissur region. The Annual Grand Feast sorted out at the Koratty Muthy's congregation is an exceptionally critical and super occasion to miss.
The Festival is praised with an incredible number of customs and is a rich and tremendous service went to by a great many travelers from everywhere throughout the world. The Feast is a yearly occasion sorted out in the second seven day stretch of October consistently. Koratty Muthy is really a nearby elucidation of Virgin Mary, to whom the celebration is committed.
Poovan Kula (a variety of Plantain) is the main offering here. 'Thulabharam' with 'Poovan Kula', a ritual which involves devotees offering their body weight worth of plantain, is the highlight here.