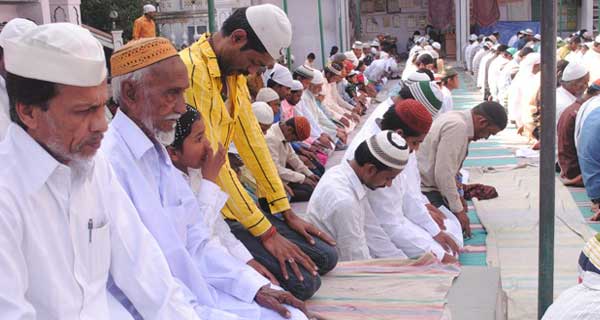 This Muslim festival of sacrifice, Id-ul-Zuha (Arabic) or Bakrid in India is celebrated all over the country. It falls on the 10th of Dhul-Hagg, the last month of the lunar year.
On this day Muslims sacrifice a goat or Bakr (Urdu) to commemorate the sacrifice of Prophet Ibrahim, who willingly agreed to kill his son at the behest of God.
According to Islamic belief, to test Ibrahim's faith, Allah commanded him to sacrifice his son Ismail. He agreed to do it but found his paternal feelings hard to suppress. So he blindfolded himself before putting Ismail on the altar at the mount of Mina near Mecca. When he removed his bandage after performing the act, he saw his son standing in front of him, alive. On the altar lay a slaughtered lamb. This festival coincides with the Haj pilgrimage in Mecca.
In Kerala as in other parts of the world, this day dawns with the resounding of Takbir (Allahu Akbar), the declaration that God is great. Every Muslim house wakes up with the spirit of sacrifice and festivity. Men, women, and children, dress themselves in their best attire and reciting the Thakbir, proceed to the Id-Gah which is the wide open space set apart for public prayers.
The whole atmosphere is filled with the resonance of "Allahu-Akbar". The Assembly then prepares for the congregational prayer led by the Imam. After the ceremonial Id prayer, the leader addresses the devotees, exhorting them to be conscious of their duties to God and follow the example of Abraham.
With the completion of the prayer and the sermon, the gathering exchange greetings and as an expression of affectionate brotherhood, hug each other. The festivity continues at homes with celebratory feasts and social visits.
Muslim women in Kerala pay visits to the neighboring homes and take part in singing and dancing. In the evenings, special meetings are held in which members of non-Islamic communities participate. Such meetings are perfect examples of the spirit of tolerance and mutual friendship that exist between communities in the state.