Idul-Fitr, of late known by the misnomer 'Ramadan' is one of the two festivals of Islam. Ramadan is the ninth month of the lunar year. During this month the Muslims observe fast, giving up all kinds of food and drink during the daytime, and spend the major part of the night in devotion and prayer. Purification of the body and soul is the main aim of this observance.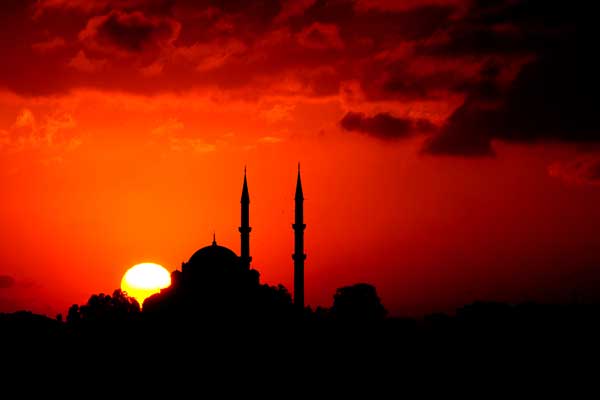 When the crescent appears on the western horizon heralding the end of the month of fasting, it marks the beginning of the Idul-Fitr festival. Because this festival is connected with the month of Ramadan, it came to be known as 'Ramadan'. The Idul-Fitr festival starts with the commencement of the first day of the month of 'Shawwal'.The first item of the celebration is a distribution of food materials to the poor and the deserving. Any person who holds food in excess of the day's need must necessarily make his contribution in accordance with the scales prescribed by Islam. Muslims all over the world celebrate this festival with great éclat and in gratitude to God.
In the morning men, women and children cleanse their bodies, put on the best attire and proceed to the mosque or the Id-Gah. The assembled Muslims gathering then offers the congregational prayer led by the Imam. After the prayers, the Imam delivers the sermon pointing out the extreme importance of the occasion. Returning home after the ceremonial functions, they visit friends and relatives. Some make it a point to visit the graves of close relatives, on this day.
In certain parts of Kerala, for instance, Chavakkad, Muslim women, dressed in their best clothes and wearing jewelry, celebrate this occasion by paying visits to neighbors and engaging in entertainments. The women organize themselves into groups and spend the time in singing and dancing. Recently in certain parts of Kerala new practices in connection with the celebration of this festival have been introduced. One of the novel features of the Id celebration is to invite members of the sister communities to participate in such function.