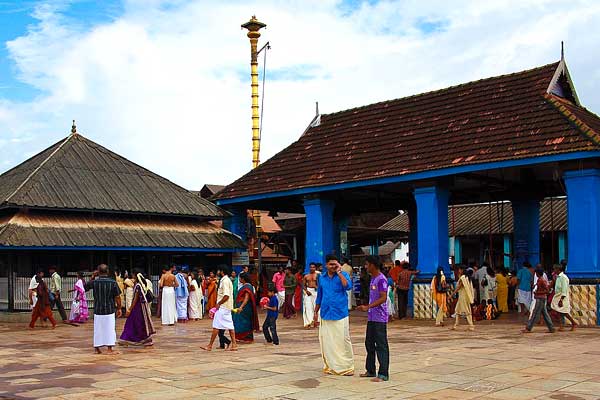 The "Makam" star is one of the most auspicious days during the period of the annual festival. Devotees from all over the country swarm into the temple on that day. The ritualistic bath of "Devi" in a ceremonial pond in the morning at the sacred pond at Onakkoor far on the northern side of the Temple. After this "Devi" accompanied by Lord Sastha on the back of the eleven caparisoned elephants march towards the "Pooraparambhu" the traditional vantage point where they remain till 11 a.m. After the mid-day, the door of Sanctum Sanctorum closes. Only to re-open at 2 p.m for the "Makam Darsana".
The whole temple premises will be overcrowded by devotees especially the women folk to have a look at Devi who appears in her sacred full-fledged splendor and glory decked in her sacred gold ornaments, precious jewelry, and innumerable garlands. It is a resplendent vision. This is exactly the form of vision which Villwamangalam Swamiyar was believed to have had when he faced westward after the "Prathishta" (installation) of Kizhukkavu Bhagavathy, Chottanikkara Devi appears at this moment clad in glittering clothes brilliant ornaments and fine jewelry with her four arms bearing varam, Abhayam, Shank, and Chakram (Offering gift and refuge) to her ardent devotees. It is fervently believed that Darsanam at this moment will result in the fulfillment of all prayers and cherished desires.
It is fervently believed that those who gain "Darsana" at this crucial "Mithuna Lagna", will be blessed with the fulfillment of their long standing desire and prayers. A statement by the executive officer of the devaswom said that in many calendars the `Makam thozal day' had been indicated to fall in March. This statement was to clarify the ambiguity about the festival dates and to help devotees reach the temple on the correct date.