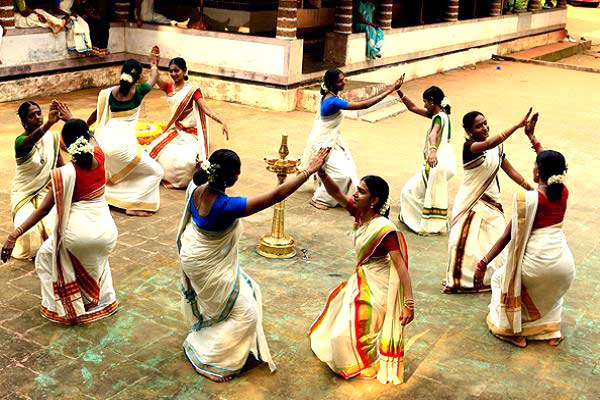 The Thiruvathira festival falls on the asterism Thiruvathira in the Malayalam month of Dhanu (December-January). The people celebrate this festival upon age-old tradition and they do it with great joy and respect for the past. The Ardra Darshan celebrated in Tamil Nadu corresponds to Thiruvathira of Kerala. It is considered to be high auspicious to worship Siva and the devotees go to the temple before sunrise for 'darshan'. Apart from the worship in the Siva temple, there is a very little celebration in the houses. Tradition has it that Thiruvathira festival is celebrated in commemoration of the death of Kamadeva, the mythological God of love. According to another version Thiruvathira is the birthday of Lord Siva.
Even though the Thiruvathira is celebrated by most of the Hindu communities it is essentially Nair women's festival. Nair women get up at about 4 am and take bath on seven days commencing form the asterism Aswathi. While taking bath they sing certain songs mostly relating to the God of Love, accompanied by the rhythmic sound produced by splashing water with their fists. In conclusion, they stand in a circle in the water hand in hand singing songs. Thiruvathira is a day of fasting and the women discard the ordinary rice meal on that day, but only take preparations of Chama (panicum milicceum) or wheat. Other items of their food include plantain fruits, tender coconuts, etc. From prehistoric times, the Malayalee woman enjoyed an enviable position in the society, and she was practically the mistress of her house.
The elevated position she occupied at home and in the society has influenced to a considerable extent the social structure, customs and religious practices of the people. The culmination of this phenomenon is clearly visible in setting apart one of the three great festivals of Kerala viz. Thiruvathira, exclusively for womenfolk, for which a parallel can hardly be found in any section of the Indian Society. Oonjalattom, swinging on an oonjal (swing) is an item of amusement on this occasion. At night the women keep vigil for Siva and perform Thiruvathira kali or Kaikottikali. They stand in a circle around the lighted brass lamp, and dance each step at the rhythm of the songs they sing, clapping their hands. The songs sometimes consist of Kathakali songs including the works of Irayimman Thampi. Among Namboodiris and Amblavasis (temple servants) and Bairs who have the close association with Namboodiris, there is custom called Pathirappoochoodal, Meaning wearing of flowers at midnight. At the midnight of Thiruvathira, an image of Siva is placed at the central courtyard and flowers, plantains and jaggery are offered to the deity. They then perform Kaikottikali round the deity. Flowers are taken from the offering and worn by them.