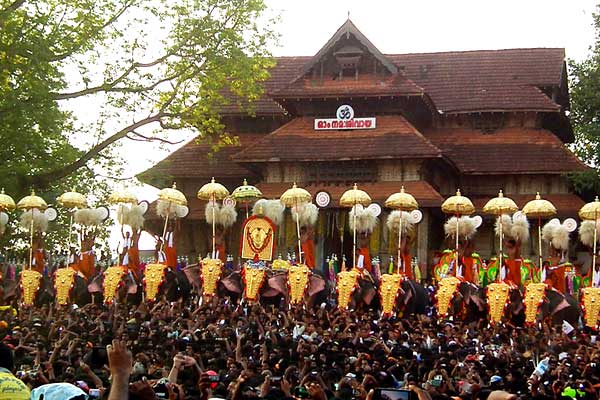 The most colorful temple festival of Kerala, Thrissur Pooram, attracts large masses of devotees and spectators from all parts of the State and even outside. Celebrated in Medom (April-May) it consists of processions of richly caparisoned elephants from various neighboring temples to the Vadakunnatha temple, Thrissur. This festival was introduced by Sakthan Thampuran, the Maharaja of erstwhile Kochi state. The Pooram festival is also well-known for the magnificent display of fireworks. It is celebrated by two rival groups representing the two divisions of Thrissur Paramekkavu and Thiruvambadi vying with each other in making the display of fireworks grander and more colorful.
Each group is allowed to display a maximum of fifteen elephants and all efforts are made by each party to secure the best elephants in South India and the most artistic parasols, that are raised on the elephants during the display. The commissioning of elephants and parasols is done in the utmost secrecy by each party to excel the other. Commencing in the early hours of the morning, the celebrations last till the break of dawn, the next day. At the close of the Pooram, both these groups enter the temple through the western gate and come out through the southern gate to array themselves, face to face, one from the round and other from the Municipal Office road.
This spectacle is highly enchanting. Although this grand festival is known as Thrissur Pooram, it is, in fact, the conclusion of the eight-day Utsavam of nine temples. The procession of the Thiruvambadi Pooram to the grounds of Vadakkunnatha Temple and back is not only important, but also quite enlivening. The marvelous as well as magical effect of the Panchavadyam, a combination of five percussion and wind instruments, is to be felt and enjoyed.