Ambalapuzha - Sree Krishna Temple
This is 14 km. Away from Alappuzha and has been built in the typical Kerala architectural style. This temple is famous all over India, for Palapayasam, sweet milk porridge, offered daily in the temple. The main festival of this temple is held in March/ April.
Arthunkal- St. Sebastian's church
Built by Portuguese missionaries, this church is an important Christian pilgrim center, which is near Sherthallai, 22kms North of Alappuzha. The feast of St. Sebastian is celebrated here with great honor in January.
Champakulam - St. Mary`s Church
This is one of the oldest churches in Kerala, and according to people belief, it is one of the seven churches established by St. Thomas. The feast is celebrated on the 3rd Sunday of October.
Chavara Bhavan - Holy Shrine
6kms. From Alappuzha, accessible only by the boast that is the ancestral home of blessed Kuriakose alias Chavara, which is a spiritual resort and holy shrine for thousands of Devotees, who gather for prayer and beacon of light is preserved here in it's original and primitive form.
Chettikulangara Bhagavathy Temples
There is a festival celebrated here during February or March, called Kettukazha, which is very famous for its processions of tall-decorated structures in chariots where images of horses and bullocks are displayed.
Edathuva Church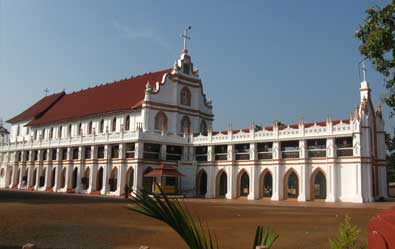 This church was built in honor of St. George in 1810, is believed that prayers offered in this church help to heal all mental disorders and other ailments. It is 24kms. From Alappuzha, and pilgrims from all parts of south India, irrespective of caste and creed, visit this church and seek blessings from the saint during the 3 days feast held on 5th, 6th and 7th of may.
Karumandi- Buddhist Centre
A village situated in the east of Ambalapuzha is famous for a black granite figure of Buddha, called Karumandi Kuttan, which is centuries old, and have many interesting legends.
Manmarasala- Sree Nagaraja Temple
This beautiful temple situated 32 km. Away from Alappuzha near Harippad is dedicated to the king of serpents, Nagaraja. It is an international pilgrim center and is believed that childless couples, who pray with devotion at this temple, are blessed with children. Also, a special turmeric paste available at the Serpent shrine has the power to cure leprosy.
Mullakkal Rajarajeswari Temple
It situated in the heart of Alleppey town, dedicated to Goddess Rajarajeswari. The nine days Navarathri festival is celebrated with great devotion and importance. The last two days are most auspicious. Colorful processions participated by nine elephants are held in the evening. Also, many cultural programmes are held in honor of this festival for thousands of devotees who come there.