Anandasram (spiritual center)
15 km from Bekal, this internationally renowned spiritual center founded by Swami Ramdas in 1939, offers a quiet, peaceful ambiance best suited for meditation and spiritual studies.
Ananthapura (Lake Temple)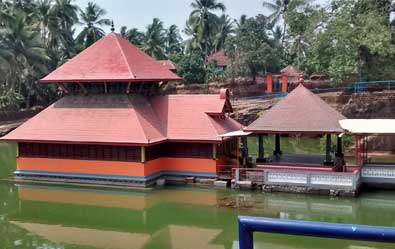 This 9th-century temple is the only lake temple in Kerala and is 12km. northeast of Kasargod. It is the Moolasthanam (original seat) of Anandapadmanabha, the deity of Sri Padmanabha Swami Temple in Thiruvananthapuram.
Bela (church)
15 km north of Kasargode, is the famous church of Our Lady of Sorrows, which is the oldest in the district, constructed in 1890.
Kanhangad (Spiritual center)
Known also as Hosdurg, after the new fort built by Somashekara Nayak of Ikkeri dynasty, this place is well known because of Nithyanadashiram an international spiritual center which in 4kms east of Kanhagad town.
Madhur Temple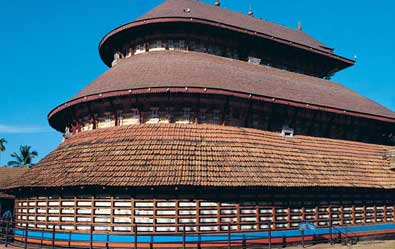 8kms from north Kasargode town is the Srimad Anantheswara Vinayaka Temple, also known as Madhur Temple, as it races majestically against the beautiful landscape of the Madhurvani River. This Temple is well known for its rich architecture and copper plate roofing.
Madiyankulam Temple
The Bhadrakali temple at Kanhangad, in Hosdurg, is famed for its Bhutha dance (Devils dance) performed in connection with the annual festival held in May or June and December or January.
Malik Deenar Mosque
Kasargode acquired over the years considerable importance as a center of Islam on the west coast. The historic Malik Deena Juma Masjid (Mosque) built in the typical Kerala style is believed to be founded by Malik ibn Deenar. It is one of the best-kept and most attractive old monuments in the district and is located at Thalankara.
Manjeswaram
A number of temples and fifteen mosques make this cashew-growing town a prominent Pilgrim center. The memorial of the late Sri Govinda Pai, the grand patriarch of Kannada literature is situated at Manjeswaram. Kanwatheertha beach, which is just 3kms from here is a large swimming pool, and the hike formation of the sea on the vast beach makes it the main attraction here. Another important attraction of this place is the cultural Kalayottam (bull race) contest, which draws crowds of people from different parts of the state.
Sree Mahalinheshwara Temple
45kms from Kasargode, located in wooded surroundings on the southern banks of the river Pleasuring, the ancient Shiva Temple contains a Sanskrit inscription in Kannada Script, which was ascribed to the Western Chalukya king Kirthivaram II (745-755 A.D).