Aruvikkara (Ancient Temple)
16 km north of Thiruvananthapuram, is Aruikkara, which is gifted with lavish scenic beauty and it also has an ancient temple dedicated to goddess Durga, on the banks of the River Aruvikkara. The City of Thiruvananthapuram gets its water supply from Aruvikkara reservoir.
The Padmanabha Swamy Temple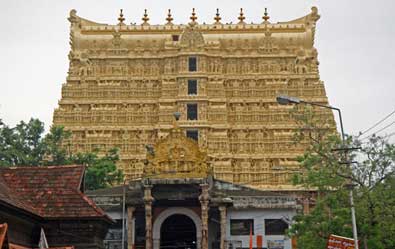 It is the imposing seven-storied tower built by Raja Marthanda Varma in 1733 A.D, which makes it by far, the most impressive landmark around the city. The presiding deity of the temple is Lord Vishnu reclining on the Serpent Anantha. Only Hindus are allowed entry inside the temple and dress regulations are strictly followed. A large market lines the street in front, and the pool beside it is for ritual bathing. There are innumerable pillars, intricate carving and mural paintings, inside the temple. It is, therefore, an excellent example of the Dravidian style of architecture.
Sarkara (Temple)
35 km north of Thiruvananthapuram and 6 km west of Attingal, there is a famous temple in Sarkara, which is dedicated to Goddess Bhagavathi. A grand festival, Sarkara Bharani, is conducted in this temple during March - April.
Thiruvallam (Temple)
About 6 km South of the city, on the Thiruvananthapuram-Kovalam road is Thiruvallam. There is an ancient temple here on the banks of the River Karamana, which is dedicated to the Thrimurthis of the Hindu Pantheon. A shrine of Parasurama built entirely of granite stone is found in this temple.
Varkala (Pilgrim Centre)
41 km North of Thiruvananthapuram by rail and 51 km by road, Varkala is a famous pilgrim center. The Samadhi of Sree Narayana Guru, The great social reformer and philosopher, attracts devotees in thousands. The cliffs and mineral water springs at the Papanasam Beach are worth a visit. The inland waterways system connecting Kollam in the North, with Thiruvananthapuram in the South, passes through two tunnels in the hills. The Janardhana Swamy Temple here attracts many devotees.