Arattupuzha (Temple Festival)
This village is well known for the annual Pooram festival at the temple in April-May. The uniqueness of this festival lies in the ceremonial processions that bring the images of the deities of 41 neighboring temples to this village.
Divine Retreat Centre
It is a very big Christian Retreat Centre located at Muringoor and Potta, near Chalakudy, on the Kochi - Thrissur route. People from all over the country and even from other countries come here to attend the retreat, which is held every week, starting from Sunday to Saturday. A large number of people from different religions, irrespective of caste and creed come over here.
Guruvayoor (Pilgrim Centre)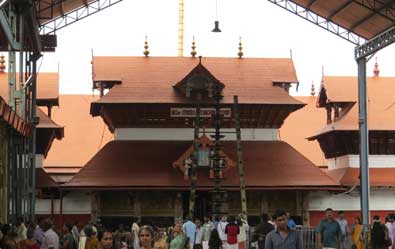 Thrissur is a good base for a pilgrim trip to Guruvayoor, 32 km away. Among Hindus, it is most important pilgrimage centers and is also known as the Dwarka of the south. The Sree Krishna Swamy Temple, which attracts thousands of pilgrims is said to date prior to the 16th century. Tradition has it that the temple was created by Guru the preceptor of the Devas, and Vayu- the lord of winds. The temple is dedicated to Krishna, known here as Guruvayoorappan (the Lord of Guruvayoor) and the idol is said to have been worshipped by Lord Bharma himself at Dwaraka. It is at this Temple that Melpathur Narayana Bhattathiri composed this well-known Sanskrit devotional poem, 'Narayaneeyam'The temple is renowned for its healing power. Several offerings are made to the deity here from the simple 'Archana' (offering of flowers) or 'Thulabharam', where a devotee is weighed against the offering of bananas, sugar, jaggery, and coconuts. Guruvayoor is also the site for several weddings and 'Annaprasanam' the first feeding ceremony of a child.
Irinjalakuda (Pilgrim Centre)
21 km from Thrissur, at Irinjalakuda, is a temple of Bharatha, probably the only temple in India dedicated to the brother of Lord Rama in Ramayana.
Triprayar (Pilgrim Centre)
25 km away from Thrissur, is a Rama Temple at Triprayar, which features architecture similar to the Vadakkumnathan Temple.
Vadakuunnathan Temple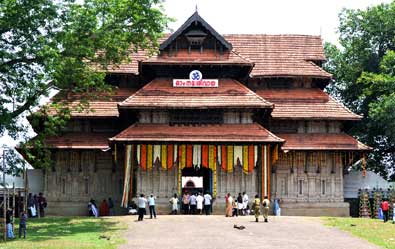 One of the oldest temples in the state, the Vadakunnathan Temple is a classic example of the Kerala style of architecture and harmony decorative murals and pieces of art. The temple also contains the sacred shrines of Paramasiva, Paravathy, Shankaranarayana, Ganapathy, Sri Rama, and Sri Krishna. The legend goes that Parasurama founded the temple. This is the venue of the world famous Pooram festival, celebrated annually in April-May. The fireworks at Pooram are a spectacular sight.