Amritapuri (Vallickavu)
The Birthplace of Matha Amrithananthamayi, 'Amma', comforts the hearts of thousands of people with her unconditional love. She has inspired many humanitarian activities all over the world. The journey from Trivandrum takes about three hours. Kayamkulam (12 km north of Amritapuri) and Karunagapally (10 km south) are the major cities to reach.
Ariankave (Pilgrim Center)
70 km from Kollam, on the route to Shenkotah, is Arainkavu where there is a famous shrine devoted to Lord Shasta. The main festival of this temple is in December.
Mayyanad
The place is primarily noted for its shrines and temples, the most important of the nine temples being the Subramanya Temple at Umayanallor.
Oachira Temple (34 km)
Located to the north of Kollam town, Oachira Temple is the unique pilgrim center, with no idol or deity. The famous Parabrahma Temple is dedicated to the Universal Consciousness.
Rameshwara Temple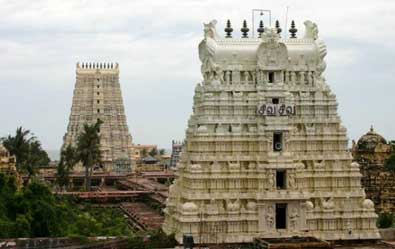 There are inscriptions in Tamil depicting the epic Mahabaratha. These inscriptions are from 12th to the 16th centuries. The Vyala monster sculptures in this temple give one the impression that the creatures are animated and actually climbing up the stairs with their outstretched paws.