Angadippuram (Religious Center)
This place is an important religious center for both, Hindus and Muslims. It has the Tirumandhankunnu Temple, dedicated to goddess Durga as well as the Puthanangadi Mosque, Which has Arabic inscriptions engraved on its Planks.
Kadampuzha (Bhagavathy Temple)
3 kms. North of Vettichira on the highway, connecting Kozhikode and Thrissur, Kadampuzha is famous for its Bhagavathy Temple, said to have been set up by Sree Sankaracharya, the philosopher.
Kondotti
On the way to Malappuram, 18 km west of Manjeri is Kondotti, a prominent pilgrimage location for Muslims. The Valia Nercha festival at the 500-year-old Pazhayangadi Mosque is celebrated for three days in February-March, drawing large number of devotees.
Malappuram Mosque
Malappuram Nercha is celebrated in summer, in memory of the martyrs who fought the atrocities of the militia. The British established the Haig Barracks on top of the hill, at the banks of the River Kundalundi, to station their forces. The martyrs who fought against Para Nambi, the Chieftain of the Lamorins, who ruled his headquarters at Kottappady, were laid to rest near the mosque.
Thai Temple
This famous temple is located about 3kms.west of Angadipuram, on the way to Malappuram from Perithalmanna.
The Jama-at Mosque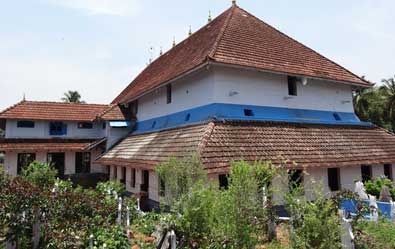 This is an important place for Kerala Muslims. The annual Nercha festival of the mosque is celebrated for four days in April. Adjoining the Mosques is the mausoleum of the Malappuram Shaheeds whose brave exploits have been immortalized in the Mappila Ballads (Muslim ballads).
Thirumandhankunnu Temple
This is an important pilgrim center in Mallapuram dedicated to goddess Durga. Every year Pooram festival celebrated in the months of March and April attracting large numbers of devotees.
Thirunavya
8 km. South of Tirur, situated on the banks of the Bharathapuzha, Thirunavya is a place of great historical and religious significance. In the olden days, Mamangam festival conducted here was a grand assembly of the rulers of Kerala, which was held once in 12 years. Believed to have been founded by Cheraman Perumal, this extravagant festival was conducted for the last time in 1755. Today Thiruvanya is the venue for the annual Sarvodaya Mela, which gathers large crowds of people, and the Thiruvanya Navamukunda Temple, which is said to have been founded by nine saints is a famous pilgrim center
Trikandiyur Shiva Temple
The idol at this ancient temple is said to have been installed by Parasurama, the legendary creator of Kerala. The temple is located near the town of Tirur and attracts devotees from far and wide.