Glass Temple
The Glass Temple is situated on a slope of the Vellarimala hill in Koottamunda, 20 km from Kalpetta. This temple is dedicated to Paraswanatha swami of the Jain faith. The mirrors inside the temple walls reflect in thousands of beautiful pattern the images of the icons in the temple's sanctum sanctorum.
Jain Temples at Panamaram
These ruined Jain Temples are situated within 5 kms northeast of Panamaram.
Pallikunnu Church
Pallikunnu Church is 12 kms north of Kalpetta. The annual festival is celebrated in the month of January.
Puliyar Mala Jain Temple
It is 5 kms north of Kalpetta. This temple is devoted for Anantha Natha Swami, one of the saints of Jain faith.
Sulthan Bathery Jain Temple
It is generally known as Tippu's Fort and situated at Sulthan Bathery town. Tippu used this temple as the Battery of his army.
Thirunelly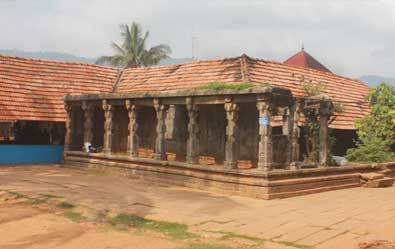 Thirunelly "Kasi of the south" is just 32 km from Mananthavady. The backdrop of Brahma-Giri hills lends an idyllic charm to Thirunelly. One would marvel at the magnitude of the labor involved in the construction of the shrine shielded with 30 granite columns and the ground paved with huge square shaped granites. Near the temple is the "Papanasini", whose waters, according to religious belief can wash one's sins.
Varambetta Mosque
15 km southeast of Kalpetta, this 300-year-old mosque is the oldest in Wayanad.
Valliyoorkkavu Temple
Valliyoorkkavu Temple is situated 3 km east of Mananthavadi, this temple, dedicated to Goddess Durga. This shrine is very popular among the tribal communities of the district. The ten-day annual festival, which falls in April, is celebration time for the tribals.