Kalpathi temple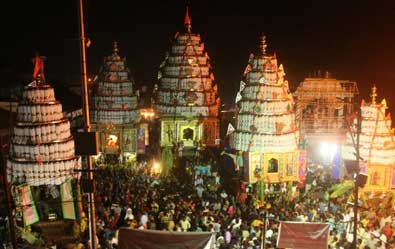 The most important of all the temples, Kalpathi Temple is dedicated to Lord Shiva. The car festival or the Rathotsavam is held here in November
Thrithala
75 km from Palakkad along the banks of River Bharathapuzha, Thrithala is famed for its Shiva temple. Kattilmadom temple on the Pattambi-Guruvayoor road has archaeological importance, the small granite structure, and a testimony of Buddhist influence, built probably during the 9th or 10th century.
Jain Temple of Jainmedu
Situated in Vadakkanthara village on the western border of Palakkad town. This historic 32 feet long and 20 feet wide granite temple devoid of any decoration, displays images of the Jain Thirthankaras and yeshivas. The region around the temple known as Jainmedu is one of the few places in Kerala where the vestiges of Jainism have survived. It is in a Jain house here, where the famous poet Kumaranasan wrote his monumental famous poem 'Veenapoovu' which means the 'Fallen Flower'.
Ongallur Taliyil Shiva Temple
Situated near Pattambi, this temple has some of the most intricate laterite sculptures in Kerala.
Punarjini Guha (Natural Tunnel)
Situated 2 km from the Thiruvilwamala Temple, this Guha is a natural tunnel in the rocky cliff. Sri Raman is the temple's chief deity of the idol is believed to be 'Swayambhoo' (Born on its own), and its abode is on the Western side. One can reach there either by foot, along with the rugged hills or to the foot of the hills through the motorable road down and then climb up. The narrow tunnel is inside the road, about 15meters long. It is believed that performing 'noozhal' which means crawling through the tunnel from one end to the other will wash away one's sins and thus attain rebirth. Only men are allowed to do the noozhal (crawling) normally, and women can do it only once a year on Ekadeshi Day.
Thenari (Natural Spring)
It is believed that the waters of this natural spring, located in front of the old Sree Ram Temple here, is as sacred as the water of the Ganges. A legend goes that when Lord Rama and Sita were on exile. One day Sita felt thirsty and there was no water nearby. Lord Rama used his bow and arrow made a spring to quench Sita's thirst.
Thiruvegappura Sankaranarayan Temple
This Temple in Palakkad district dates back to the 14th century, while its Koothambalam (Temple Theater) was probably added in the 15th or 16th century.