Jewish synagogue
This is the oldest synagogue, which was built in 1568. It is well known for the 18th-century hand printed, willow patterned flow tiles from China, the great scrolls of the old testament, a clock tower, Hebrew inscriptions on stone slabs, ancient scripts on copper plates etc. there are also gold and silver crowns gifted to the synagogue by various patrons.
Kalady - Adi Sankaracharya
10kms away from Alwaye is a famous pilgrim center Kalady, situated on the banks of River Periyar, which is the birthplace of Adi Sankaracharya, the great Indian philosopher of the 8th century. There is a shrine dedicated to him in the name of Dakshimurthy and a temple of goddess Sharada. Also, an ancient Shri Krishna Temple is situated close by, which was the family temple of Adi Sankaracharya, known as the International temple dedicated to Shri Ramakrishna. There is also a place situated there called the crocodile that, where this great philosopher took his vows of renunciation.
Malayattoor - St. Thomas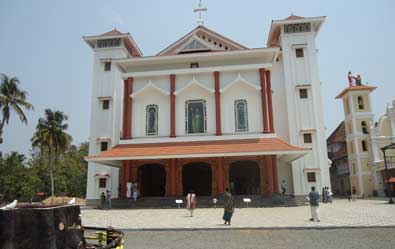 47 km from Kochi is a famous Catholic Church, built on the 609 feet high Malayattur hill dedicated to St. Thomas, as it is believed that he had once prayed here. Thousands of devotees visit this church to pray during the annual festival "Malayaattur Perunnal", which is held during March- April.
Munnikkal Guhalayam
This place is located on the top of a hill at Chengamanad, 30kms north of Kochi. It is believed that sage Jangaman lives here 2000 years ago. A famous temple of Lord Murugan is located on the spot, where the sage is said to have meditated, which was later consecrated by Chattambi Swamikal in 1898. This place got the name " Munikkal Guhalayam' which means 'Sages Rock Cave".
Pazhur
25 km towards the south-east of Kochi, near Piravom, is the place Pazur. It is believed that Shiva Temple here is nearly 1800 years old. The River Muvattupuzha flowing westward from the east, changes direction on reaching the temple, otherwise, the temple would have been washed away. This place is important for astrologers who believe that it is blessed with divine powers.
Santhanagopala Krishnaswamy Temple
This is one of the oldest temples in India. The original foundation of this temple was laid in 947 BC, according to the inscription found in the temple.
St. Francis Church, Fort Cochin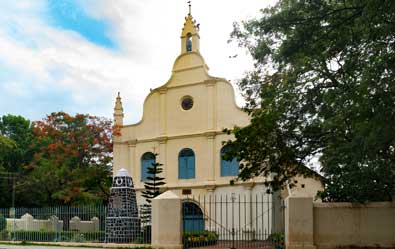 Built by Portuguese, St. Francis Church in memory of Franciscan Friars in 1503. This is the first European church in India. It was restored in 1779 by the Protestant Dutch, converted to an Anglican church by the British in 1795, and is presently used by the Protestants in south India. Vaso-Da-Gama was buried here. But fourteen years later, his mortal remains were taken to Lisbon, in Portugal. His tombstone still remains here.
Vamana Moorthy Temple
In Thrikakkara near Ernakulam is this beautiful temple where the inscriptions from the 10th to 13th century are found.